YES: ABUNDANCE DOES COMES THROUGH LOVE
Where are you going?
Are you on the path to love?
These were my meditation/journaling questions
Then I drew one of my favorite cards : ABUNDANCE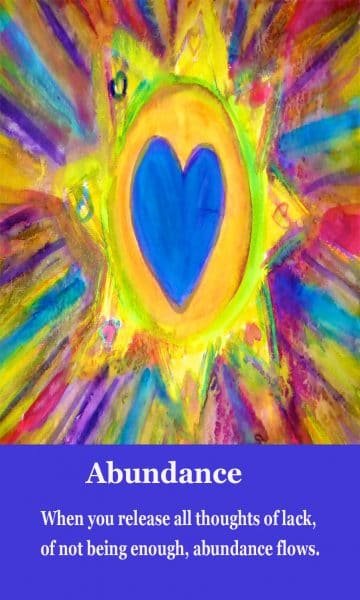 So how does my question relate to abundance?
Abundance comes when we embrace the love that is within.
So when we stray away from fully loving ourselves, we also step away from abundance
Sometimes we don't even feel we deserve it or expect it!
Yet the more I love myself , the more I open my heart to love and allow the abundance to flow. 
This might be buried away in your subconscious, you might not even be aware of how this is limiting your abundance.
Today focus on abundance.
Look around you and see the abundance you already have.
I sometimes make a small booklet from one sheet of paper that I keep in my wallet.
When you have your journal ready start to note down any instances of abundance that you have attracted into you life. You can do this as it occurs or at night before you go to sleep. This is usually when I do mine along with my gratitude journal.
You write at the top of the page
Today I observed 5 ( or more) things that show me proof of the abundance I have in my life.
This is a sample from two of my pages :
Abundance flowed into my life today. I attracted abundance when:
A friend bought me coffee
I was given a free bunch of spinach at the farmers markets
I had a free coaching call via skype.
A friend shared with  me how I had helped her become calm  and she sent me a thank you email.
I got a free reading
Abundance flowed into my life today. I attracted abundance when:
My beach coach helped me get clarity on a new product
I feel so abundant every day when I walk on the beach
I won $10 on a scratchie I bought today.
Happy dance time email from Paypal saying you have got money!- I love these.
I loved the sun today feeding my bones and giving me my vitamin D hit
Now celebrate when you notice abundance, celebrate the evidence of it in you life. Do a happy dance, say: Look what I attracted to me! Do this every day for the next 7 days and share any ahas in the comments
This brings more love through as we focus on the positives in our life.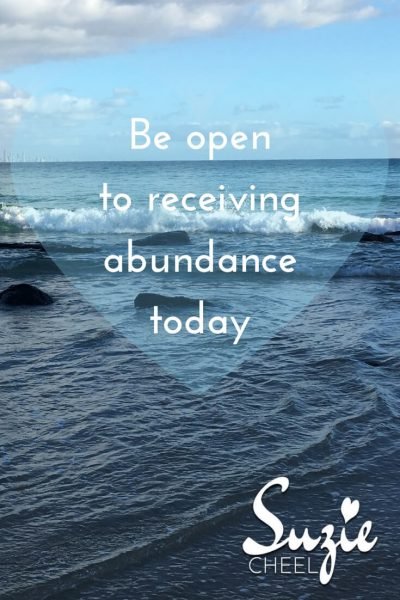 Remember
Open your heart to LOVE:
DARE to DREAM again!
all my love
Suzie xxx 
Get You Daily Heart Opening to love Oracle cards here.