Yes it is sale time.
Color Your World Treat Yourself or A Loved One to a Gift.
I am letting go to let the new in. Yes I have a new range of silk scarves and accessories that I will be launching in December.
I have been holding onto to much of my art work, even the new Daily Heart Whisper paintings which I still have to put out for sale. I do share them every day on My Heart Whisper private group on Facebook. Join here to get an invite.
Yesterday I reopened my Etsy Art Gallery  There are silk scarves, a silk sarong/wrap and some art quilts. All the scarves are half price or less that you pay in the galleries I have been selling in.
Here are some of the scarves prices: ranging from $30 USD – $87 USD. There is a video here on the many ways you can wear a scarf.
Silk Wrap/Sarong: I love my growth
I have put Three of my Art Quilts up for sale.
There are 3 more I am still thinking about. 🙂
This is a hard one to let go of. I love the vibrance of the fabric, It is double sided from handpainted pure silk, with digital printing onto silk. It would look wonderful in an high open space.
(If you would like to see this up close we can skype or hangout)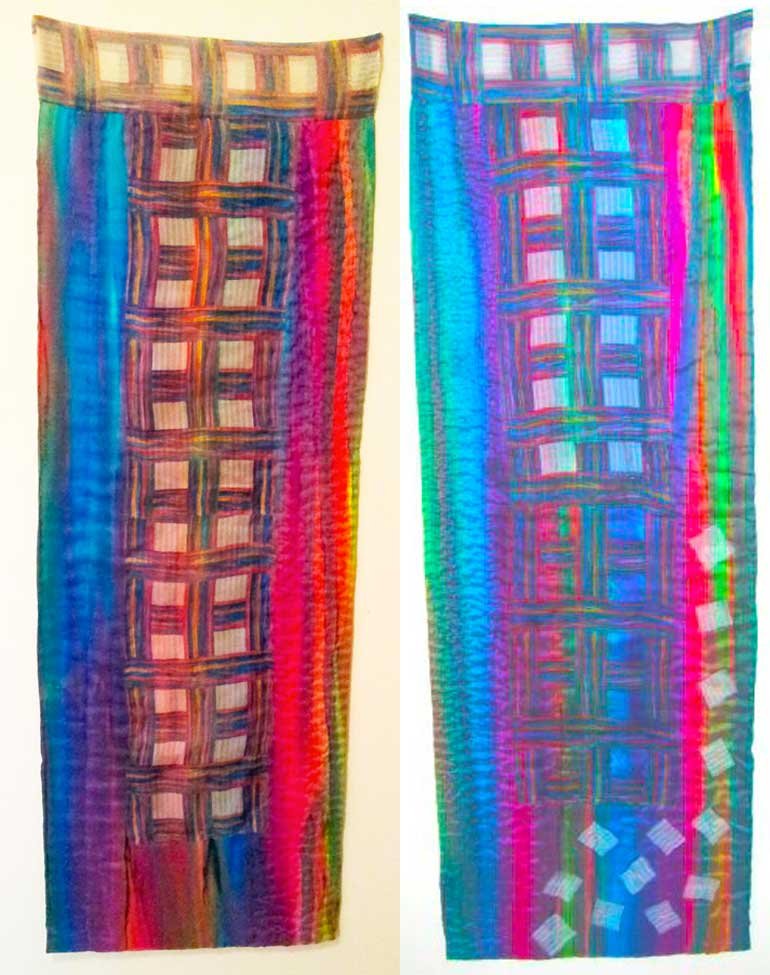 Collage of Memories: Our Memories Give Us Glimpses of What We Love
Silk and Cotton Painted Printed and digital imagery, hand and machine pieced. Some of the fabrics have been hand coloured and  printed. I used stamps and seals i bought in China.  The digital Imagery is taken from images I took at the Great Wall, interesting textures on walls I found in and around Beijing.
This one of a kind artwork made  Handpainted wool challis , machine pieced. and hand sitched.

This is the sister quilt to Colourscapes that was an award winning quilt for Quillts 2000 and is featured in the book of the same name . This was my first art quilt. You can read the story here http://bit.ly/155hsHW
All the details and sizes are on the Gallery
I would love for you to own one of these unique works. So please contact me if you want me to model a scarf for you, or see the real thing. Imagine one of these adorning you body or your home. You can hang the scarves as an art work when you are not wearing them
How are you coloring your world today?
all my love
from my ♡ to yours ♡

Listening to the whispers of your heart brings ♥More FUN ♥ More LOVE ♥ More ABUNDANCE ♥