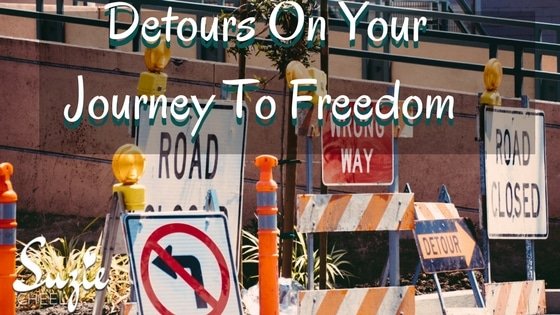 I had what you might call a bad start to the day, I got up early 4.30am to journal before I listened to a 5.00am workshop that I was looking forward to.
The link wouldn't work when I went to zoom, then I thrashed around trying to find out where the link was, re-signup, all of those things you do.
Suddenly it dawned on me to check the date. As my friends on the other side of the world say – I live in the future, so instead being a day ahead I was a day late!
Then I was online, not my current practice before I have done my morning rituals, now days not before I do my beach story and live.
Anyway, the browser was open, so I checked out  the website of Carrie Green who was running the workshop that my friend Harmoni had recommended. I do have her book, She Means Business, on order.
That took me down another path, wow back on the bright shiny object trail – ego smiling and thinking "You can't stay on one path, can you?" The path to freedom!
So an hour or so later I was feeling disappointed with myself. I had done my morning prayer, welcome in the day, ritual. The journaling, meditation, exercises not done.
I was unaligned!
Beating myself up.
I then realised that I need to realign myself or I would spend the whole day being confused and inefficient.
Then it was time for the beach, my place of clarification and inspiration. Where I raise my vibes.
Not to mention my resident beach coach, Des Walsh.
As we talked I started having light bulb moments!
As Des said it was a light bulb beach day.
The light bulbs were about the risk of looking at yet another system, more books to read, more webinars to do, not going within and not taking action.
My heart whispers totally out of the loop.
But then, sometimes we have to venture out to go within.
What I have got clarity on is that this weekend I am focused on decluttering and getting set to have new weeks when I give priority to my inner wisdom and daily action, that is focussed on my laptop lifestyle business and my art.
Both of these light me up
The thing that does mystify me about this morning is that yesterday I had several lightbulb moments that shifted my consciousness, my mind: they were empowering. I felt it through my body. I felt energised and my vibes were raised.
The real inner awareness I had as I drew a line in the sand.
So I had to ask myself why late yesterday I thought that signing up for a webinar was going to solve some of my current challenges.  
I  am now asking myself how much more information do I need to take in, to take daily action to move forward on my journey to freedom.  
This is also a pattern I recognise that I repeat.
I am on a path to mastering something new, in my current case, my abundance mindset and neurosculpting. Then here I am, again, jumping onto something new before completing what I am currently reading and  working with.
A pattern I am now changing. This was like a wakeup call
Why do we forget that the answers are within?
It is easier to look outside until we truly embrace the love that we are.
We can look in the mirror and say:
"I love you, I really love you", and feel it.
To manifest our dreams we have to love ourselves unconditionally and trust our inner knowing.
Then we allow the abundance to flow.
Out of confusion came clarity.
I will now use my clarity through contrast process to map out my next weeks to ensure that I am moving forward on that journey to freedom.
Do you have some lightbulb moments that have given you a real wake up call?
Caused you to stop and go within?
Please share in the comments.
With gratitude and love
Suzie
Be Powered By Love
PS If you would love to get clarity to move forward book a session with me