Today I am grateful for being present with what is, knowing how blessed I am to be alive. from today on I will appreciate each moment with delight.
Yesterday was the monthly visit time to the Renal Specialist – good results on the kidney function now at 68% and my blood levels good and I do celebrate that. It makes my heart sing. I then had a rather emotional time with being told that the new medication I am on, Imuran (Azathioprine) combined with the Prednisolone would continue for 1 year and 6 months respectively- This was not my picture and something I am not comfortable with.
So yes I cried most of the way home, that was good as I had been experiencing an emotional numbness. I then talked with Des and my wonderful friend Stephanie. Their words of wisdom reinforced me how blessed I was. As Stephanie reminded me the Doctors have never had anyone like me so they don't know what to do with me. Most people who get concentric glomerulonephritis do end up on dialysis, in need of a kidney transplant and some die. They are basing everything on results and what is written about what has now been called Anca negative nephritis which the doctor keeps impressing on me is serious.
Last week I did embrace for the first time the fact that I could have died, something I had chosen not to even think about.  The medical profession that I am dealing with have no room for self-healing, holistic or any other alternatives even though they are still surprised at my initial recovery which astounded them. I will be ever grateful to Dr S for the action he took back on July 16th as even though risky it probably saved my life and has has me free of dialysis and I AM ALIVE.  I need to find the balance between fighting the Drs and believing in miracles. I will continue for the next 3 months with the medication and at the same time continue with my own self-healing work that I do daily. I believe that more miracles will emerge. 🙂
I  then had a do nothing much afternoon, went to meditation at Temples of Light, always an uplifting, vibe raising session. We meditated under a pyramid with crystals: a new experience for me and I felt quite grounded. That helped me to got everything back in perspective and  I wrote the words that begin this post. I then read  a blog post on Getting through Tough Times which is inspiring on how others cope when things get tough.
What do you do when faced with a life threatening situation?
Today's Intuitive Heart Painting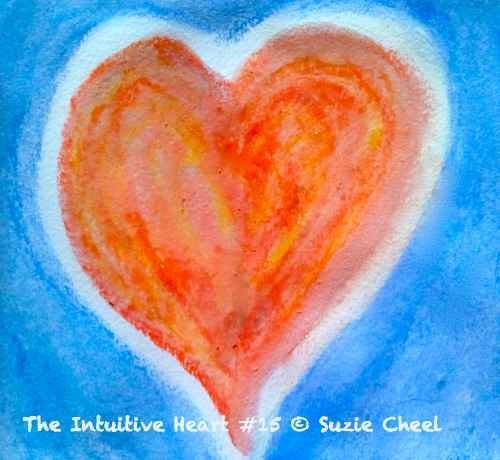 My heart opens and allows my light to shine- Suzie

Namaste