The Daily Whisper today came after I asked today how can I be truly aligned?
Happiness was the message today:
Then instead of writing today I decided to make the Daily Whisper at the beach.
This was my first morning walk on the beach in almost 10 weeks.  You know the beach is my happy place.  So the choice to be happy is a no brainer 🙂
Do you wake up each morning making the choice to choose HAPPINESS?
Here is my video from the beach (5.33 mins)
One of the things i do first thing in the morning is I check in with my joy meter to see what's my joy level today?
Today i heard 89, seeing as my joy level used to be down at 70 when I first started this daily practice. This week it has been up in the 90s.
I thought thats great and then I said to Des, look the sun's shining, it's winter here, a bit hard to imagine with me in shorts and a tee shirt. There is a wind blowing so it is a little bit cool.
This is something that I have been missing.
This has been missing from my happiness routine. As most of you know I come to the beach every morning for a walk, but since I fractured my knee about 10 weeks ago.
When we choose to be happy we are stepping into our power, what I call the power of love. This means that we feel happy within in we know we are enough, we know we love ourselves fully, unconditionally and the more that we do that then we exude little bubbles of happiness out wherever we go.
So my question for you today is
How will you choose to be HAPPY TODAY?
I have woken up today with wonderful orders for the Heart Whisper oracle cards I will be shipping on Monday, around the world,
if you haven't got you own set yet head on over to http://suziecheel.com/hworacle and get your set today.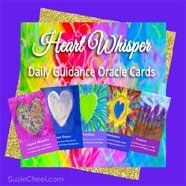 That's all for today
Everybody have a beautiful happy day
Remember.
Open Your heart To The Power of LOVE : Listen, Heal and Prosper
Namaste
Suzie xxx