Add Video To Your Blog

Read Rapid Video Blogging  and become the expert in your niche with video and blogging
Rapid Video Blogging is a great free report and it will help you get started if you want to either add video to your blog or get started with a blog and youtube.
I spent about an hour last week  reading through Gideon Shalwick's free Rapid Video Blogging book. I was impressed with the information that Gideon has shared. I know having done other video marketing courses that the Video Coaching program Gideon is offering is excellent value. So oif you want to fast track your learning only this program will teach you how to set up your YouTube channel, you will learn how to use the excellent Thesis WordPress theme and understand how search engine optimization (SEO) works for both your channel and your blog.
Gideon did an interview with Fran Kerr a blogger who has embraced video. When you get the download link for the PDF you can get access also to this live case study where Fran shares how she makes a fulltime income from YouTube and her blog. What I love is her casual approach to video where she shares the parks of Brisbane with the world.
To download your copy of the report all you have to do is click on the image below and  provide your email address and name: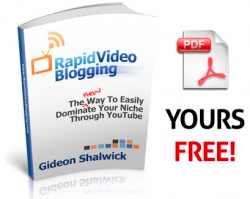 Be Inspired