Last week in a weekly business training on your "SOB", that's your State of Being, with Roderick Damian, he stressed the importance of setting intentions and why he did this over goals.
His definitions:
A goal: A future projection requiring a plan to get there
An intention comes from feeling – it has powerful energy, is spontaneous and even serendipitous.
When you are clear on your intention you are aligned to your purpose and you feel happy and full of joy.
Roderick's definition of success is to be happy and full of joy.
When I feel this I am aligned, he said.
He sees goals as rigid and restrictive, requiring  effort and struggle
Intention, he said, puts us in a state of receiving and allowing.
A complete contrast
This morning, as I shuffled my Heart Whisper oracle cards, I decided to set an intention.
This was to be happy and joyful in all I do this week, following the whispers of my heart.

Yesterday I became very aware that what I was trying to do was in complete opposition to having me feel happy and joyful.

Listening to Roderick Damian and applying his lesson about intention, has helped me to turn that around so that what I was about to be doing now would be in total harmony with my feeling happy and joyful.
More of that as the week moves forward.
THE READING
These are the cards that manifested from my intention setting.

Be BOLD
[bctt tweet="When you are bold you can step into your brilliance, where there is no shame" username="suziecheel"]

Yes step into your light, as you venture into this new week step out of your safe, sometimes boring  State of Being and take action
DREAM BIG:
[bctt tweet="What is your dream that will create ripples of change for you and the world" username="suziecheel"]
Then you will have clarity of intention  that leads to
HAPPINESS

[bctt tweet="Happiness  is a choice we can make as we begin each day." username="suziecheel"]

Start each day by choosing happiness from your heart as you wake in the morning. Then set the intention in your body to do what will have you feeling happiness and joy, as you are aligned with your true self.  
ME TIME was the fourth card that my heart whispered: "turn one more card over".  Me Time, appearing for the third time in April, was reassuring me that this month the focus I set on April 1st is continuing to appear each week so far.
APRIL 1 READING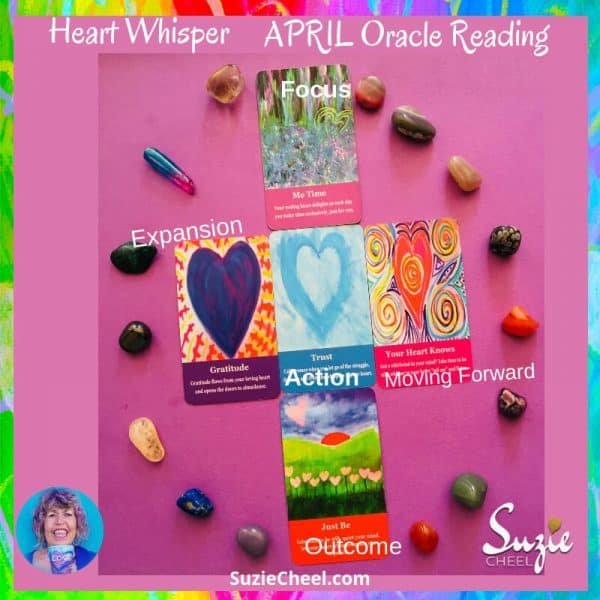 1. What is my intention for this week?
2. How do I want to feel?
Write it down, share in the comments and like and follow my page Suzie Cheel Inspires to be on alert for my free readings.

Love Yourself Into Abundance™


Namaste
Suzie xxx