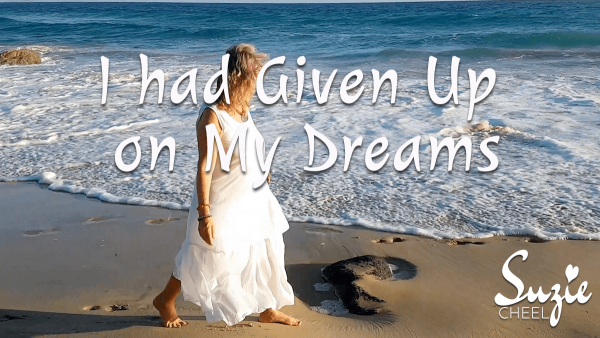 I FOUND A WAY TO MAKE THEM REAL
Have you ever done this?
You had a big dream, one that is going to change your life and move you towards the freedom you desire and then BANG there's a roadblock.
6 years ago I had a whole new launch ready for my Law of Attraction Training business. I had the website, the email lists, planned webinars, the funnel everything you need to get started with an online business, then it all went pear-shaped!
I found myself in Bed 4 in Med Ward 1 at our local public hospital here in Tweed Heads,
I was surrounded by a group of doctors and nurses.
The specialist apparently was telling Des and me what he thought was wrong. I have no recollection of the details, but I was told later that he said then that only 25% of people recover fully from the condition he had diagnosed.I had said "Well I will be one of them, the 25 %."
The options, apart from full recovery, were not pretty, death, a life on dialysis or a kidney transplant.
I wasn't to find out till much later just how close to death I might have been that day. I had in fact had a total kidney failure.
It took me a long time to recuperate physically and emotionally, it took away my confidence about my ability  to run an online business.
I lost my MOJO.
I lost my passion for anything except healing and cooking 🙂
Looking back I realised that I lost confidence in my dream of success, that journey to freedom that I had made all the vision boards for. I had even been to Canada to train with the Law of Attraction How to Guy; Michael Losier.
So, from  the time I landed in hospital till late last year – 6 years of healing, I had done some searching for a way to have a viable business., with both my art and abundance. I had even spent thousand of dollars on coaches, mentors and courses, but nothing quite jelled.
I learned a lot in the process and still I did not have a profitable thriving business.
Then late last year I was to meet a woman I was to get to know very well.
I went to the Daring and Disruptive Female Entrepreneurs breakfast here at Palm Beach.  This was Lee's first time to this group and we hit it off instantly so much in common. What was funny was, that both of us nearly didn't go that morning.
The universe had other plans.
I next saw Lee agan when she came to have a Heart Whisper reading with me.
We friended one another on Facebook. I would see her posts pop up occasionally and then one day one really got my attention.
She wrote that she had drawn a line in the sand, was talking about big dreams both for herself and others, no longer playing small.
Asking: Who wants to wake up every morning with peace in your heart?
That spoke right to my heart
I sent her a message  asking what she was doing.
Lee sent told me that she had plugged into an affiliate marketing platform and shared a link to a webinar that outlined the business she had joined.
The more I found out about the platform the more I realised that this could be the answer to my dreams and finally be moving onto the path to freedom.
What I found was a heart centred online affiliate marketing business with a 90% automated marketing platform, people were earning 5 and 6 figure incomes that seriously caught my interest.
Des and I looked closely at the business and decided it was great fit for what we had been searching  for. Plus there was a supportive heart centred community.
We had both for many years been looking for, the perfect online business, yes spent thousand of dollars in being coached and through trial and error.
This felt good!
Now I wake each morning excited.
I am excited  because this is a business that rewards people in a matter of months, even weeks, compared to other businesses and platforms we have experimented with, where there is a much longer lead time before you were similarly rewarded, if ever.
What I love is:
That it works on social media and attraction marketing.

I found my heart centred tribe

It is where entrepreneurs, mums, dads, people of all ages and from all walks of life are making 5 and 6 figure incomes

International travel is an option again

We can recreate our abundant life

it will set me free to do my art and inspirational products 
The big bonus for me is that this will give me the time and financial freedom to have time for my art
Live your life Powered by Love
Do dare to dream again
Love and abundance
Suzie
PS If you would like to know more contact me or click the image below.