DO YOU FEEL YOU ARE FAILING AT WHO YOU ARE "SUPPOSED TO BE:?
🚫 "I'm not really that good."
🙅‍♀️ "I'm not worthy of this." 
🙅‍♂️ "I'm not enough."
👂"Who will listen to me?"

I know those thoughts and feelings.

Yes, I have experienced them all and more. 
I hear these and similar expressions from clients. 
I read them in comments on my Daily Love Vibes when I do readings… 
There is a better way, but you need to be ready to believe it!

YES YES YES There is a way out of these FUD feelings.
Feelings of Fear, Uncertainty, and Doubt.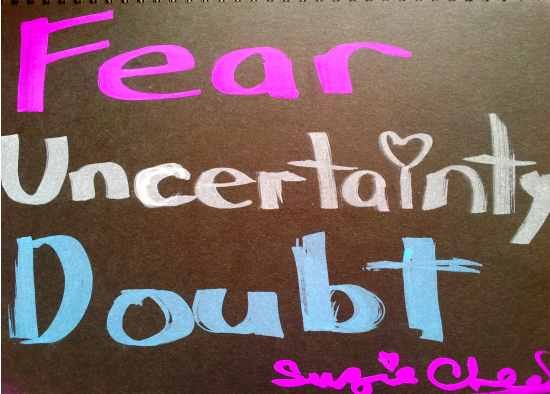 The FUD factor

The FUD factor can stop us from being who we are meant to become. 
We keep looking outside and suffer from comparisonitis
FUD stops us from being the change we wish to see in the world.
🛑 It stops us from knowing we are enough.
🌟 Shining our light. 
💸 Blocks our flow of abundance

💰 Yes money too!
👑Being the best we can be. 
🔥 Then you never live your passion.
💌 You don't share the message you came here to deliver
IT'S TIME TO CHANGE ALL OF THAT RIGHT NOW
IMPOSTOR SYNDROME – DO YOU FEEL YOU ARE FAILING AT WHO YOU ARE "SUPPOSED TO BE:? Click To Tweet
✅ Are you ready?

🔨 NAILING THE IMPOSTER SYNDROME: Catch It – Pin It Down – Deal with it
Join my Facebook group to get the details for the Zoom room, where we will all be live and you will be able to interact with me.
Yes, do please answer the questions when you join so I can invite you to the private room and we can meet.
With love and abundance 
Suzie xxoo
Check out Manifesting Abundance through Love Recalibration Meditation
The following two tabs change content below.
Hi! I'm Suzie Cheel. I am an intuitive artist,, speaker, healer and creator of the Heart Whisper Oracle Cards- The Entrepreneurs Essential Tool Kit. I love to cook, walk on the beach, and passionate about making love go viral
Latest posts by Suzie Cheel (see all)