Reflecting on Last Year
As we come towards the end of another year it is a good time to reflect on where you are now in relation to where you were almost 12 months ago.
Maybe you hit all your goals. Maybe like me there have been some things that were
great- you feel a great sense of achievement
some challenges :
What I will be doing over the next week will be to journal on how I am feeling, I will look back on each month.
This week I am taking time leading up to my birthday to take time to be still and listen as I reflect back on the reading I did last January.  What stood out for me was that the card I drew for December was Just Be.
That is what my body has been telling me since I completed the Focus on Abundance 5 Day Challenge. The challenge raised questions for me and had my limiting beliefs appearing. As I flip back through my journals for the year, it is great to reference each month.
Looking Forward
When I spend time reflecting on my year, I will be meditating, listening to my whispers and making note of what i have done that I can take into the new year.
A new year is time to start over, start fresh. This year I feel I will be building on what I have put into place that I am seeing myself powering forward.
At the Daring and Disruptive Female Entrepreneurs group that I belong to,  end of year session last week we shared  how we saw our year and then we ere asked to share with someone new, and swap the soul foot we had written on.
What so many of us found was the words we received spoke  maybe to us for the coming year.
These words I received from another Suzi touched my heart.  Then Lauren, another daring and disruptive joined us and shared what her word had been for 2016
ROCKET LAUNCH
and how she had embraced these two word and her business took off. Those two words spoke to me so i added them to the soul foot. I love the idea of  Rocket launching my biz in 2017 with ease 🙂
Forecast Your Year Through Tapping Into Your Heart Whispers
The New Year is the time which bring us the energy of planning, forward-thinking, a focus on manifesting what we really, really want for  the next year.
Using Oracle cards is an empowering way to look at what the year ahead may look like for you, in maybe a more gentle way.
How would you like to go into the new year, knowing that you are aligned with your heart's true desire?
With clear intentions that are supported by your heart whispers, your intuition.
If you think it would help you to get clear on your intentions for 2017, I am offering a  special New Year Heart Whisper Reading to set you up for 12 months of success, abundance and joy. You own forecast with guidance as you move towards that wildly abundant 2017.
READ MORE HERE
All my love
Live with love, smile often and be forever grateful
Please Share this article on your favorite social networks and with your community. This can help others heal and transform their lives. Thank you!"♥♥
facebook
Twitter
Instagram
Youtube
Pinterest
LinkedIn
Google+
Suzie, you bring so much sparkle and joy to the world…you are my role model for vibrant living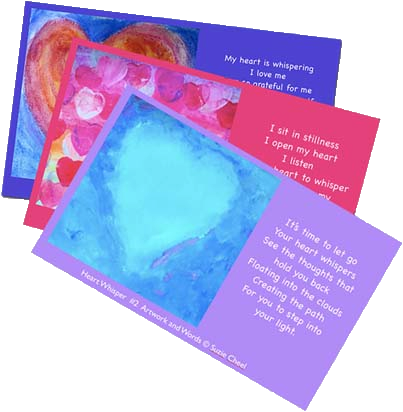 Get weekly inspiration to raise your vibes, a weekly heart whisper painting with a channelled message + more
Find, Follow, Subscribe, and Share Me on Social Media
facebook Twitter Instagram Youtube Pinterest LinkedIn Google+ RSS
COPYRIGHT SUZIE CHEEL 2016 | ALL RIGHTS RESERVED             PRIVACY POLICY | TERMS OF SERVICE