The Abundance Show with Morgana Rae
Ten years ago I
interviewed
Morgana as she was launching Financial Alchemy. Last week  we met and reconnected.
It was so inspiring to hear of the stories of success that have come from people using this book.
Morgana
has her own story to share as well 
Listen in and share in the comments your ahas from the show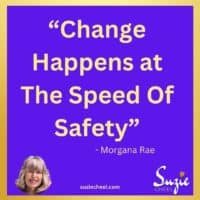 * Learn how important Love and Self Love are in bringing in Your Financial Alchemy
* Learn how to fall in Love with Money
* Who is your Money Honey?
* Make Money FALL IN LOVE with you!!
Author Morgana Rae is launching her new book

Financial Alchemy: Twelve Months of Magic and Manifestation" on Jan 23rd, 2013. We're having a big launch celebration for her, with all her partners and friends offering DOZENS of lovely gifts. Get the book and pick up a collection of free eBooks, MP3s, eCourses, videos, audio meditations, success tools and more from some of the leading personal and financial development professionals on the Web.
Find out how to get the book, the gifts and a FREE invitation to her upcoming Money, Love & Magic Telesummit. Sign up to receive a reminder about the big Amazon book launch of the 10 Year Anniversary Special Edition – "Financial Alchemy: Twelve Months of Magic & Manifestation"… … and Morgana will send you a FREE pass to attend her 3-Day round table discussion on "Money, Love & Magic!" January 17-19, 2023, with a panel of world-renowned experts on magic and manifestation. https://www.morganarae.com/book-prelaunch-2023. Connect with Morgana at https://morganarae.com
Link to interview from 10 years ago https://youtu.be/KxIEM0lP4EI
The following two tabs change content below.
Hi! I'm Suzie Cheel. I am an intuitive artist,, speaker, healer and creator of the Heart Whisper Oracle Cards- The Entrepreneurs Essential Tool Kit. I love to cook, walk on the beach, and passionate about making love go viral
Latest posts by Suzie Cheel (see all)