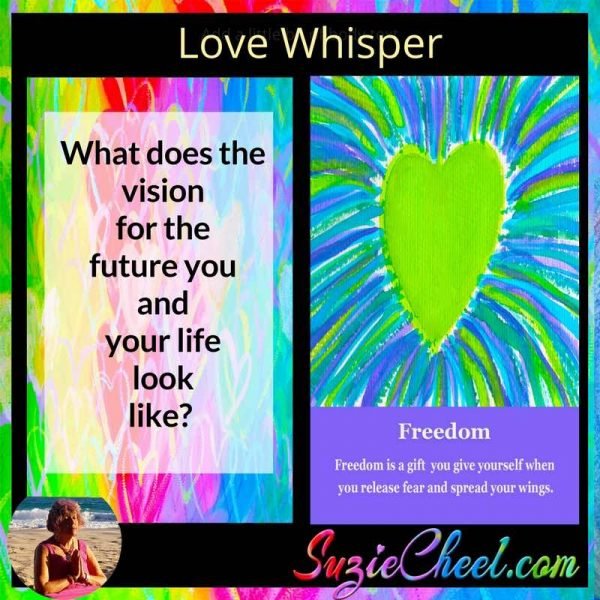 ON MY WAY To My Millionaire Life.
Today's question is in response to a challenge from my mentor to journal on after the last class in Get Famous Being YOU.
The past 4 weeks of this training have rocked me, caused meltdowns, lots of resistance and yesterday was the same.
I started questioning myself, could I really uplevel me, my life and my business. I talked with Des who thought I should tackle the journaling question- I decided to put it aside, cooked dinner- a great escape for me. Then decided on an early night. Saying I think a week away from Social Media was what I needed to breakthrough.
Inner Wisdom had other ideas. When I woke this morning I decided to relisten to yesterday's training live session. Get inspired first! Do the mindset work 
Wow really pleased I did as what follows is my journaling session this morning in response to this question
What does the vision for the future you and your life look like?
Then I shuffled my Heart Whisper oracle cards and the card I drew was: FREEDOM
The message on the card is:
I love that I drew the freedom card. Freedom is what drives me, freedom is one of my main values so having that come up was wonderful.
Then I asked myself: What is the vision you have Suzie for the future you and your future life?
So now I have a conversation with me (SC) and my inner wisdom (IW). I must ask IW what his or her name is too. This was a practise I developed when I was doing my masters degree and a topic called Imagination in Action. I used subconscious then rather than Inner Wisdom.
IW: First you will be painting each day and be a successful artist who sells her work each day. That means start today!
SC: Okay I have got that. Luckily, I decluttered my studio and have it ready to video and start to paint in.
IW: Yes, you have been avoiding that. Remember what I am telling you now is the future you. 🙂 You video as you paint from your bright area studio in your new spacious four-bedroom apartment maybe a townhouse near the beach.
So, from now you must step up and into the artist you were born to be. You will use your art to open people's hearts and your products and programs will reflect how color heals people to love themselves unconditionally. You do empower through color and your words, your cards, your books your speaking and your art.
Your Creative Now program grew from the Empowering You and Dare to Dream Again programs.
You have finally fully loved yourself and have stepped into your creative power.
Suzie's Healing Journey was the final piece in the puzzle that set you free.You now live a laptop lifestyle, free of all debt and doubts. Des and you are speakers on shows, podcasts and stages around the world telling the story of your journey. Reminding people that you are never too late to Dare to Dream again.
You now live a first-class lifestyle. Your home reflects this in color and style. You have like-minded friend's clients and colleagues who you spend time with that is mutually empowering.
You travel each month for work and pleasure. Holidays are just part of working and you love it.
You have both given TED Talks that have millions of views, inspired so many people as you became inspired by listening before to TED talks to inspire and motivate you.
You now make a million dollars each year from your art, your books, apps, your speaking, oracle cards, print on demand and you still do heartscapes for special clients that are now treasured works of art on large canvases.
Money now flows in daily.
You have an investment property again. You bought well this time.
You travel first class and now are a millionaire who made a powerful difference to your life and through your message, through your work and your money create change in the world.  
For so many years you have wanted to truly make a difference in the world by empowering others to love themselves, tap into their creativity so they can heal themselves and in turn help to heal the world. This is now your story
So now you can have, do and be all that you ever dreamed of and desired.
Life is wonderful you love you and your life. You are so happy.
SC: Wow that was a download and I sense there is more to come.
I am so excited and grateful that I met Kat and she taught me what I already knew: that my message was inside of me and once I embraced that 100%+ my life would change and it has. I had to learn to let go, step back, to step up and think like a millionaire. My millionaire mindset empowered me and made my heart sing as I shared and sold each day. I became the powerful, colorful for millionaire who colors and heals the world through The Power of Love.
This is so empowering for me, I feel like I have broken through a huge limiting belief that I have been carrying around for more years than I want to remember.
I am now ready to fully embrace my message, my purpose and color and heal the world through love and it feels so freeing.
This means doing the work, being consistent and disciplined every day.
No more…….
Not trusting me and my heart whispers

Looking outside of me

Comparing myself

Thinking I can't

Thinking I am not good enough

Or I am too old

Lack thinking and

more that will flow this week as I uplevel me and my life!
There it is all laid on the line. I am looking forward to sharing my journey with you over the next year or so on my way to becoming a millionaire.

I now know that I can empower so many others too
There I have written that from my heart.
Do you have a vision for your future you? 
Remember: Open your heart to LOVE: DARE to DREAM again!
all my love
Suzie xxx 
PS:
Are you ready to create the future you, to dare to dream again?  Schedule a call with me to see how I can help uplevel your dreams, color you world so you can heal your life.
Join me in the Empowering You  FREE challenge