Heart Whisper Meditation and Reading for November
This month's reading speaks volumes to me as I have been boldly finalising my rebranding.
These were the words I wrote after I drew these cards and so I had the title for this blog post.
This is your time to shine, to get out of your limiting box that stops you shining. Yes that takes courage and when you do listen to those whispers of your heart.

You allow all fear to drop away and that inner glow that comes from within will shine forth. The gratitude flows and your heart says thank you, thank you, thank you, and hugs you. Feeling so joyful that your own daily gratitude will open those doors to abundance that, you deserve and desire. 
Then in the Heart Whisperer Community Kim wrote in response to the cards I shared :
 I see these cards as a road map or guide book to find the proper path to lead me where my Life's Journey wants to take me. Courage and boldness have come together to convince me that my Journey is not about how others judge me. My Journey must be guided by self love and self confidence. I must stop along the way to meet new people and gain new knowledge. I must step forward and help those in need, and be wise enough not to pass judgement on those who do not understand or accept me.When I find the proper path, and achieve these goals, I will be rewarded with inner peace, good friends, many stories to tell, and the continuing gift of laughter and love.
Here is the reading with a meditation to bring in the energy of November ( 8 mins)
What does your heart whisper? 
Share in the comments below or come and join  the Heart Whisperers
Live with love, smile often and be forever grateful
Listening to the whispers of your heart brings ♥More FUN ♥ More LOVE ♥ More ABUNDANCE ♥ ♥♥"
Please Share this article on your favorite social networks and with your community. This can help others heal and transform their lives. Thank you!"♥♥
Looking for clarity as you move forward into  2017. Book a reading here 
facebook
Twitter
Instagram
Youtube
Pinterest
LinkedIn
Google+
Suzie, you bring so much sparkle and joy to the world…you are my role model for vibrant living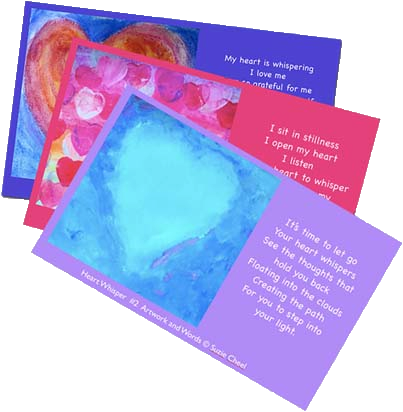 Get weekly inspiration to raise your vibes, a weekly heart whisper painting with a channelled message + more
Find, Follow, Subscribe, and Share Me on Social Media
facebook Twitter Instagram Youtube Pinterest LinkedIn Google+ RSS
COPYRIGHT SUZIE CHEEL 2016 | ALL RIGHTS RESERVED             PRIVACY POLICY | TERMS OF SERVICE