Welcome to May- Let's all live with and follow our passion.
Passion is the Heart Whisper Focus for the month and in the video I share the reading that I received on May 1 ( 6.51 mins)
Say yes to the quiet inner whispers that will allow your life to flow. This means be kind to you. Say no to whatever comes your way that, you know will not put you forward. It's so easy to find yourself down someone else's rabbit hole. Passion is the card for May so how can you take note of this and truly follow your passion. Be you and spread joy through love.
What is your passion that will propel you to live in love and your light this month ?
That was the question I asked on my Facebook page on Monday- May 1 in my broadcast from the beach on following my passion.
Natasha Botkin Being in the flow of trust and faith for my outcome. Spirit please glide home buyers to me and allow me to glide to my new home. ?
Robin Doemel Reid My son was just accepted into an elite training that will make him one of a very small cadre of masters in the world. He shared that he has always held the intent of being the best in the world at what he does. Can you believe that he never shared that with me? I was humbled and amazed. And inspired. I am taking that on. How could I never have thought that way before? My new aim is to be the very best in the world at what I do. Not so I can brag or garner awards, but rather so that I know I have done everything it takes to be extraordinary, have reached for the highest heights, and done my very best. This is committing myself in a new way to the work for which I have passion and love and devotion. Thanks for giving us the prompt to share!
Barb Parcells This month I plan to start tearing apart my daughter's very neglected garden and building a new one. I get to indulge in my second greatest passion, gardening (the first one is writing), and I get to work side-by-side with my grandchildren teaching them what I know and where their food comes from.
Shelia Prance My passion for the month of May is to write my portion in an anthology to be published later in the year. I have the subject and now is the time to put the words on paper.
Mihaela Lica Butler Writing will be the passion of the month – sharing my love and warmth with friends who are open to receive these gifts.
Nicole Kellermann-Wettemann Helping women reconnect to their own inherent divinity and joy. It feeds my soul 🙂
Kelley Grimes My passion this month is writing and creating! I am opening space for more creativity and so excited about the possibilities!
Kimberly Forman Brochu My passion that propels me to live life from love & light is my personal growth
Rachel Kieffer My passion is to live life fully and radiantly and help other women do the same.
I love this one from Reba Linker, looking forward to reading what she thought on her passion 🙂 Great question, Suzie. I love that you frame in terms of the new month. I will have to think more on this! ?
Felicia Baucom Traveling, which I'll do in a couple of days, and being in nature, which I can do everyday! And dancing.
Heather Maria I have a passion to inspire and heal the world and I desire to do that through my photography and my writing.
Another friend  said: After many years of false starts (and perhaps some misdiagnosis) I seem to be headed to a life with less (dare I say "no") physical pain. I'm pretty passionate about getting out of bed in the morning and saying "yes" to things as they unfold during the day.?
What is the passion that will light up your life in May?
I look forward to reading you comment
Ready to rediscover your passion? Book a complimentary chat here 
All my love
Please Share this article on your favorite social networks and with your community. This can help others heal and transform their lives. Thank you!"♥♥
Heart Whisper Oracle Card Original paintings on auction are still available here, leave a bid in the comments check out the paintings here
   Sold: Abundance, Gratitude, Your Heart Knows, Expect Miracles,  Follow Your Heart, Bold, Receive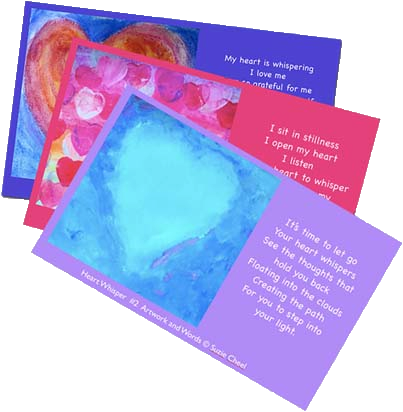 Get weekly inspiration to raise your vibes, a weekly heart whisper painting with a channelled message + more