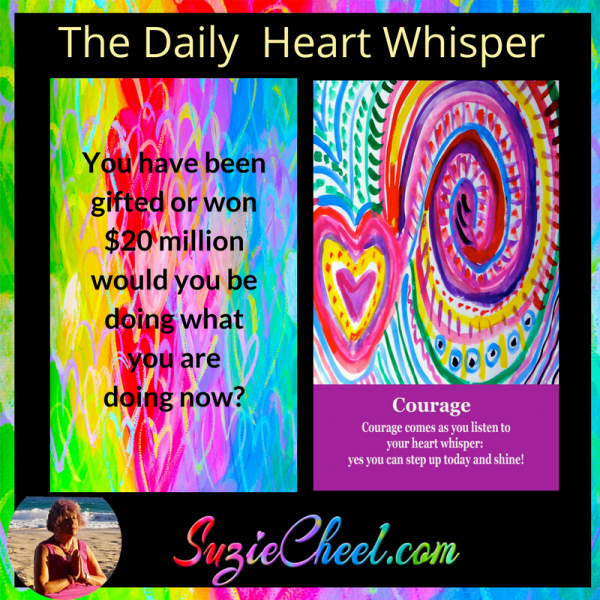 The question today was one Des asked me while walking on the beach yesterday:
SO YOU WON $20 MILLION WILL YOU KEEP DOING WHAT YOU ARE DOING? 
I heard my heart say YES.
 I would be painting, creating, speaking and writing. 
Des then commented that that was the first time I had answered that question without reservation.
In the past I have said no- I would just do my art and let everything else go.
Yes I would have a holiday, buy a house with a new studio, hire my dream team, etc.
And yes . I would still be doing what I wrote last week or maybe the week before, when I asked myself the question about being in alignment with my why. 
So what has changed? 
I have become aligned to my message: Open Your Heart to Love: Dare To Dream Again
I know my why. 
It has been my why for more years than I can remember. I let it go because I stopped listening to my heart and followed what those who I thought knew better because they were more successful- or looked that way. 
 
My task now is to blend this in a way that does make my heart sing every day.
I know with $20 million I would have the best team of support staff to do much of what I do behind the scenes each day.
My dream team. I visualised this scene today in my morning meditations. I also would be able to create change for so many through philanthropy.
I just finished reading  Malala – The girl who stood up for education and changed the world, yesterday. So Powerful.
Today I meditated on the question again and then drew the Courage card.
 Courage comes when you listen to your heart whisper: Yes you can step up today and shine!
Yes this card speaks volumes to me
• Have the courage to get out of your own way!

• Let go to leap forward!

• That is what you must do to do what you are here to do. 

• There is no more room for procrastination. Interesting as yesterday I did a whole tapping session on procrastination and still I found myself procrastinating on some tasks that are hanging around and stop me moving forward. 🙂  

Another version of this  question is: Are you doing now what you are being called to do?  Are you living your why?
So imagine you have just won or inherited $20 million dollars- there was one person here in Australia who on Tuesday night won $30 million!. This could be you 🙂 
How did you answer this question? Did your heart answer YES? 
Would you like guidance in really discovering your why? Just message me  or leave a commemt below and we can talk. 
Remember Open your heart to LOVE: DARE to DREAM again!
all my loveSuzie xxx  
PS
Ready to follow the path of your heart? Start your day with guidance from your heart http://suziecheel.com/hwcard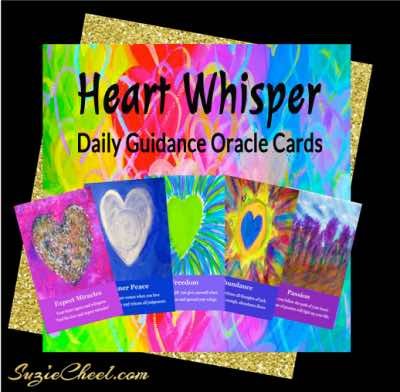 .