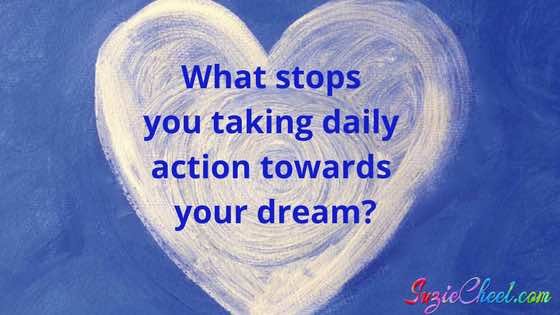 IS IT EASY FOR YOU TO TAKE THE DAILY ACTION THAT MOVES YOU TOWARDS YOUR DREAM?
Question:What stops me taking daily action towards my dream?
Today's card is INNER PEACE: Inner peace comes when you love yourself fully and release all judgement.
Today was the final chapter for me and Celebration was the topic in Sally Thibault
. Author of the book: Tapping to Reclaim you: How to Re-Ignite Your Passion, Power and Purpose in 30 Days
Looking back on the intentions I set back on 2/9/17. I initially got the feeling of sadness and disappointment set in as I read over what I had intended for September.
I then recalled other times, more often than I like to recall, where I have felt this way,
This is a pattern!
As I have been reading through and typing up my journals for my book Suzie's Healing Journey – The total path to self-love, I can see the pattern.
I set myself so many things to do on a daily basis that I continually set myself up for failure. In choosing not to review daily, I continue to judge myself.
I forget to celebrate my wins. Wow what A big wake up call I got this morning.
There is also a blessing here as my soulmate and beach coach Des is my sounding board for mornings like this.
As we got to the beach Des said you have something to share? Most morning this month I have shared the lesson I have learned from doing this 30 day Eft program. Des often add to or reminds me of where I am being hard on myself- making unnecessary judgement.
Today I shared my experience and my feeling from earlier this morning. This was early as today I woke up at 4.04 and then was with my journal, my altar, my cards, etc by 4.30 am.
I was then able to talk out how I was able to see the pattern and it has been going on for longer than  I want to remember.
Yesterday when I was recording from my journal for my Book Lucky To Be Alive-How i used The Law of Attraction and the power of Self Love to save my life   I took a photo of a to do list I had written in my journal, when my work was healing.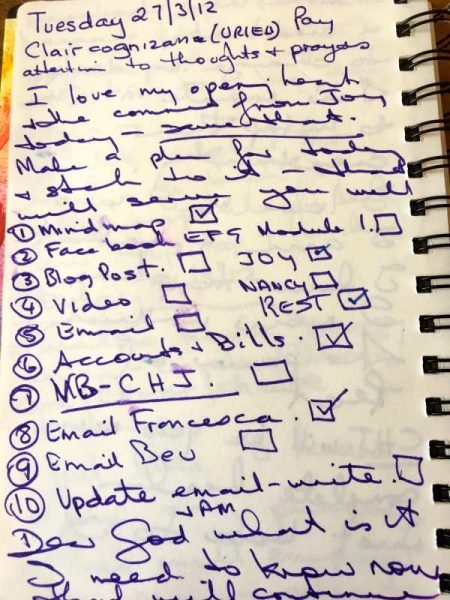 When I read through the list that only had  a few items checked off.
Who knows?  I may have done more, reviewing my day, although I do have it on my daily list and so often end the day without checking it off.
I even have a colourful what I call my to love list that I sometimes find myself filling in the next morning. I just remembered I can use my mobile to check things off that I could quickly do each evening.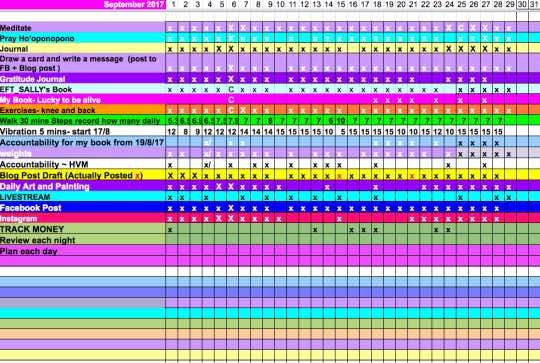 I would be looking at what is in alignment , can be actioned tomorrow and discarding what isn't aligned to my purpose, my message.
It's also about putting me first!
I thought I was. I do all the daily self-care work.  
There is a missing link.
Now what will I choose to  change?
I said to Des: "I write out my intentions early in the month and choose to leave those pages rarely referred back to.
I now know that I am going to choose to write these intentions out daily in my morning journal.
Then my inner self will be smiling.
I also wrote this out that day I set the intentions 🙂
I am painting, creating, speaking, writing, travelling the world and living a laptop lifestyle. With a base here in Australia, near the beach.

I choose to be aligned to my passion and purpose every day, being open to all the opportunities that are coming to me. These bring ripples of love, change and freedom on all levels.

I open heart to love, I am financially free, I dared to dream again!
I now have this printed out, pasted into my journal, on the board behind my computer screen and on my phone.
When I set my intentions for the next 90 days this weekend, this will be the focus from which I plan.
I will be checking back on the 24 intentions I set for faith, fitness, finance and family.
I will be looking at where the priority is, asking what areas need more focus.
I have great daily habits for my faith (spirituality) my health and fitness that I do daily without fail. My family/relationships I am happy with at this time.
I will be reducing the number of new intentions in these areas for the next 90 days.
The areas that I will be focusing on is my mission, my message,  my business and my clients.
I am putting this to the front foot.
You might think I do this  – no I still get sidetracked by the bright shiny object syndrome, helping others in groups and making more allowances. Still learning to say no. 🙂 
To live my dream life, I will do the daily non-negotiables that my mentor reminded me yesterday was crucial to living the life you want 
I will be checking in before I say yes– is this aligned with my purpose, why I am here?
Will it be easy? Well I can make that choice for it to be simple or challenging! In the past I have focused on the challenge, althoug I love KISS
Today's card is INNER PEACE: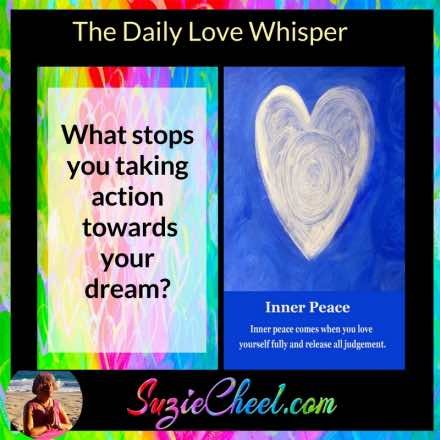 I feel this speaks closely to my experience today
Will I be feeling good? YES. I will be asking each day is this a Hell Yes or a Hell NO?
I will become more aligned each day.
I will be shining my light, move step my step towards living the life I really want and desire. 
Remember
Open your heart to LOVE: DARE to DREAM again!
all my love
Suzie xxx #dailylovewhisper #dailywhisper
PS:
Ready to dare to dream again? I love helping heart centred spirited women get clarity on your purpose.  If you think I might be the coach for you why not book a FREE discovery call today? 

I offer a FREE 30 min chat so we can have virtual tea and get to know each other and see if we would be a good fit for coaching- No hard sell just tea and chat xx 
The following two tabs change content below.
Suzie Cheel works with Leaders and Entrepreneurs Is an award winning artist who has exhibited and sold her artwork in galleries and collections around the world Has a Masters degree in Applied Science Has worked with several 7 figure leaders, expanding their self awareness, self worth and guiding them onto their spiritual path Is the creator of the Heart Whisper Daily Guidance oracle cards, dubbed the Entrepreneur's Essential Toolkit Is the author of Emergings - a meditation on the emotions of change
Latest posts by Suzie Cheel (see all)