Heart Whisper Meditation On Inner Peace
Inner peace is something so many strive for.
That calm quiet when your life is in harmony,
You have let go of all those judgements that lower your vibes
You love and accept yourself exactly as you are
You know you are more than enough
Today when I was shuffling my Heart whisper cards the Inner peace card flew out. Doreen Virtue taught me that a fly or jumping card was most significant.
I always take note of these cards and how they might have a greater message for me.
Today I wrote in my Journal:
Inner peace comes as I love me in all ways, when I believe and know I am enough.

Then I step into the truth of who I am. The love flows naturally to and from me, sending ripples of love backwards and forwards. This brings more harmony to me and my world. Like a candle this allows me to shine my light brighter.
I then recorded this meditation live in The Heart Whisper Circle . It is a special meditation that came right from the whispers of my heart
Heart Whisperer Silvia said : I feel very well after this meditation
The meditation is 6 minutes long.
I would love to hear from you in the comments on whether you found that helped you move toward calm and loving you more. Did you feel at peace? 
Don't forget to join the Heart Whisper Circle
Live with love, smile often and be forever grateful
Listening to the whispers of your heart brings ♥More FUN ♥ More LOVE ♥ More ABUNDANCE ♥ ♥♥"
Please Share this article on your favorite social networks and with your community. This can help others heal and transform their lives. Thank you!"♥♥
facebook Twitter Instagram Youtube You are so beautiful Suzie and I love coming to your blog. It lifts me up and refreshes me each time. Your art and inspiring words always touch me. Today's in particular was moving for me I am on that journey of complete self-acceptance and self-love.
Thank you for your burst of joy in my mailbox. I give thanks for your posts that always brighten my heart
Suzie, you bring so much sparkle and joy to the world…you are my role model for vibrant living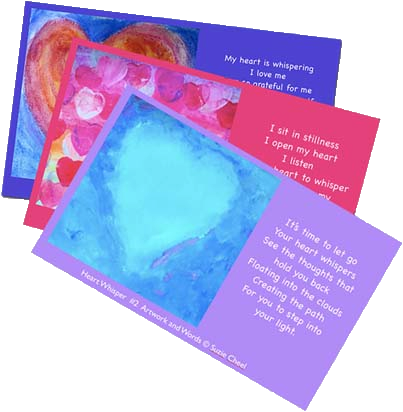 Get weekly inspiration to raise your vibes, a weekly heart whisper painting with a channelled message + more
COPYRIGHT SUZIE CHEEL 2016 | ALL RIGHTS RESERVED
PRIVACY POLICY | TERMS OF SERVICE