Why really listening to your heart whispers can be a challenge
We don't know what we will hear and whether it will be delightful or scary or neither. Yes we don't know!
We live in a society that glorifies reason over emotion. Everything has to be logical.
People don't trust what their heart tells them. You  hear people say my head told me one thing and my heart another! An example of this can be when you are deciding on a chosen career path:
Head says be an accountant, doctor, etc
Heart says be an artist or a chef.
I am sure some of you have experienced that feeling.
Listening to the Whispers of Your Heart is a Choice!
It takes courage too!
Last Friday morning I listened to the whispers of my heart.
I had just drawn my 3 cards for the day.  Courage, Dream Big and Freedom using my new system which I explain in the video here.
Then it was time to meditate and journal. I first recorded my cards and reflected on  the meaning for me in the moment.
 Courage was what I  needed right now to make the shift that was coming.
Dream Big: The Action: That was the action I need to take. I know I have been skimming on really writing out my big dreams and then putting myself in the picture.
Freedom: The Outcome. One of my top values. Being free in every sense of the word means: being abundant in all areas of my life, and living my purpose and on purpose.
I then picked up my journal and these words flowed from my heart:
I am an artist who uses Law of Attraction to create an abundant , loving, fulfilling life,
I color, inspire and uplift you ( and the world) with my art and my words.

I create change through sharing Law of Attraction tools and processes to help you live an abundant, loving, prosperous life.
I smiled. This encompasses all that I have been writing about and working towards. But in my heart I knew that there still was a missing link.  Well read on my Heart knew…….
The evening before I had been talking with my long standing friend and accountability buddy, Heather about the possibility of changing my facebook group back to being the Heart Whisper Circle.
At a networking event on the previous morning I was introduced as the Heart Whisperer!
Was I going to be courageous and reassess all the changes I have been making over the past 4 months?
Have I allowed the process of achieving simplicity become too complex? Yes I was feeling torn and not my light hearted self.
It was also a very significant day, as 5 years before I found myself in a hospital bed with 3 options, life , death or dialysis. It was out of this near death experience that the Heart Whisper was born.
Now was I going to be courageous and take action, or sit back and mull it over, maybe even beat myself up?  Was I going to confuse people even more?
These were the challenging questions running round in my head when I woke up on  Saturday morning. Then I  read a blog post: Mistakes Are Our Gateway to Self-Discovery by my friend Marquita with is wonderful quote from the Buddha:
There are only two mistakes one can make along the road to truth; not going all the way, and not starting.
I realised  that what I been seeing as mistakes and bad decisions were just milestones on the learning process of this journey.
That gave me the confidence to move forward  and not worry about what others might think of all my changes.
Yes I did change the group back to The Heart Whisper Circle and received this comment:
 I love that you reverted back to the original name. It definitely resonates with you and your message. So happy you have healed and come through this journey to share your love & light with the world! Tae Lynne
I have a sense of inner peace, now  that i finally have a way that combines my art, the heart whisper and law of attraction.
Do you  follow your heart whispers?
Want to get clarity on a situation in your life?  I would love to help you. Book a reading or a clarity session
love and abundance always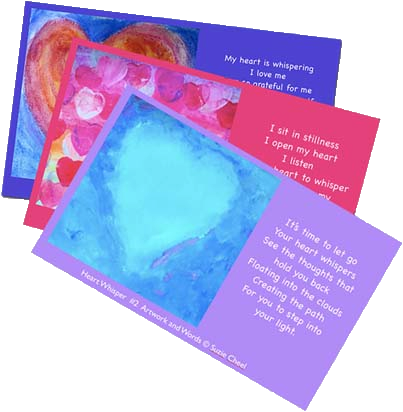 Get weekly inspiration to raise your vibes, a weekly heart whisper painting with a channelled message + more