LOVE 💜 JOY 🧡 FLOW
When I step onto the path of love
The one of Real Radical Self Love 

I wake every day with the words I love you Suzie on my lips
I give myself an inner namaste 🙏

My heart smiles
I have accepted that I am worthy 
I know and feel I am enough
I believe and trust in me 

Then I open my heart into feelings of JOY
Your horizons expand as you allow your heart to open and flow
Click To Tweet
More bubbles of love surface 

Listening to the whispers of my heart

And following their guidance has brought me
To choose to feel joy in all I do 

Yes each and every day

Then I am in FLOW

Your horizons expand as you allow your heart to open and flow
Click To Tweet
I know have expanded my horizons 

The possibilities are endless
I am going deeper and moving
Forward faster on the path of 
MY ABUNDANT LIFE
I love this week's reading that I did from bed this morning 🙂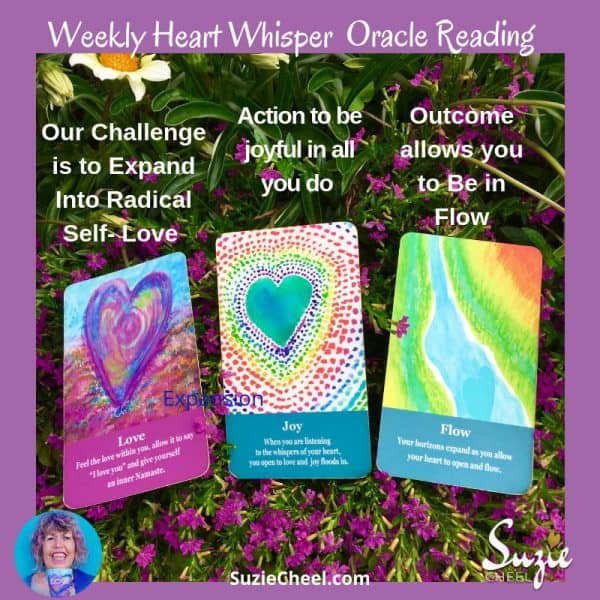 Are you on the path to radical self-love?
I am discovering radical self-love is creating my dream of living a fully abundant life?
I would love to know and if you don't want to share here you can message me
love
Suzie 💜🙏💜
The following two tabs change content below.
Suzie Cheel works with Leaders and Entrepreneurs Is an award winning artist who has exhibited and sold her artwork in galleries and collections around the world Has a Masters degree in Applied Science Has worked with several 7 figure leaders, expanding their self awareness, self worth and guiding them onto their spiritual path Is the creator of the Heart Whisper Daily Guidance oracle cards, dubbed the Entrepreneur's Essential Toolkit Is the author of Emergings - a meditation on the emotions of change
Latest posts by Suzie Cheel (see all)