Discover The Power In Your Card Deck

Let's Learn how to use your cards to create more abundance in your life and business
It is also an opportunity to remember and reclaim who you really are
Rosie and I share the power of card deck to transform you life. Watch and Listen  here

Have you always wanted to have your own deck?
Maybe even started one?
Join  Rosie Battista and I for a  Live Card Deck Training Webinar
Learn how Card Decks can build your business, grow your community, and create a lucrative income stream.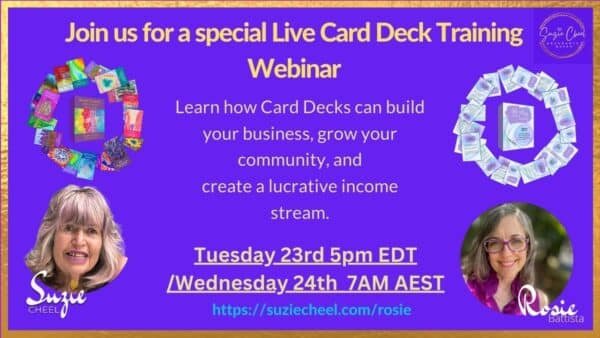 Live with love, smile often and be forever grateful
Making Love Go Viral™️
 Listening to the whispers of your heart brings ♥More Joy ♥ More Love ♥ More Abundance ♥
Who Is Rosie?

Rosie Battista believes your God-given voice IS your gift.
Rosie's passion is working with the woman over 50 who is ready to remember who she truly is, declare it to the world and claim her prestigious throne.
Rosie is admired for her extraordinary elixir of personal life lessons, power to see things in bite size practical steps, and emotional leadership of women through the creative journey to birth the life and business they love. Her treasure chest of insightful creative exercises, "Self love You-tensils and Spiritual Essentials" (TM)  help you discard old patterns and limiting beliefs so you can uncover your unique inner gift. For the past few years, Rosie has taken her business to the next level by teaching heart-centered coaches, speakers, and entrepreneurs to envision & execute beautiful distinguished