The old "FUD Factor" (Fear, Uncertainty, and Doubt) can hit any of us at any time. Here's a way to deal with that.
Today take time to LISTEN deeply to the whispers of your heart. They have a message for you that will guide you to true PROSPERITY in whatever area or areas of your life you truly desire .
Take time today to IMAGINE your life and make a list of everything you desire.
Currently I am in a 60 day mentoring group to fast track my business to 6 figures.
Yesterday's task was to create an abundance list
I have just completed mine and will share the process with you
Use your journal or computer – whichever feels good for you = and write this statement at the top of the page
I give myself permission to have everything I desire.
Then start your list with
I give myself permission to …….
(Hint: don't allow your imagination to be blocked with this exercise – dream BIG. then BIGGER all the things you have always wished for but felt were out of your reach or that your couldn't even hope to have)
I can already hear you wondering: can I really have it all?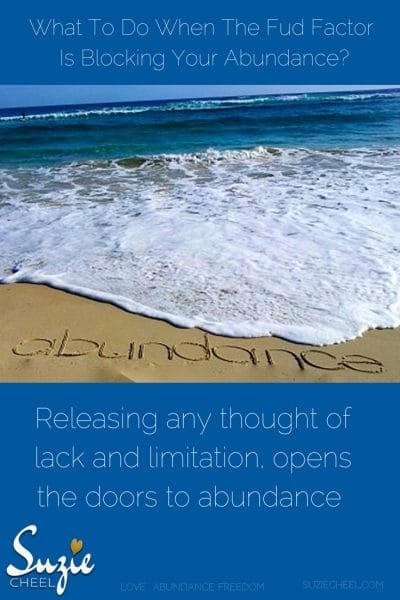 You have to believe first. Fully embrace what your heart is whispering and then imagine yourself in the picture.
I know your old "friend" FUD might have dropped in for a visit, reminding you you are not good enough, you don't want to change, and the excuses go on. I know I have hard on my mindset work to overcome that Fear, Uncertainty, and Doubt.
Here is my abundance list:
I give myself permission to
✅
live in our dream spacious skyhome near the beach
✅
to own our own home again
✅
to be a vip in all that I do
✅
to travel biz/first class always
✅
to inspire and empower my tribe of thousands daily to be the change I wish to see in the world
✅
to openly create ripples of love that flow into rivers of abundance bringing freedom to all I share the gift of G and FT with and those who catch the vision
✅
to get my hair blow dried weekly
✅
to colour my hair and be outrageous when I feel like it
✅
to remove all limitations on how I be
✅
to go on retreats when my heart whispers be kind to you
✅
to buy clothes, designer handbags and shoes without looking at the price tag
✅
to have a cleaner weekly
✅
be republish Emergings: a meditation on the emotions of change
✅
to finish writing Lucky to be Alive and hire Emily to edit, publish and promote it
✅
to delegate before I am ready to a VA as this will fast track our business
✅
to have a PA who looks after my Heart Whisper empire
✅
To have weekly dinner dates with Des
✅
travel every month or 2- Bali, Peru, Costa Rica, Greece, Spain, Scotland, Ireland, NZ, Japan, USA , Broome, Kakadu
✅
to go on a painting retreat in New Mexico
✅
to have a state of the art kitchen
✅
host lunches and dinners with my heart centred family and friends
I will probably keep adding to it 🙂
Please share yours in the comments.
I am excited to read your abundance list.
If you want to know more about how you can live your abundant life, I am here to support you. Just PM me or comment abundant life below.
The question that sparked the post from my card reading today was:
What Did My Heart Want Me To Know Today?
Then shuffled and I drew 3 cards from my Heart Whisper Daily Guidance Oracle Deck.
 

Challenge:
Wishing you a magically abundant day in all ways