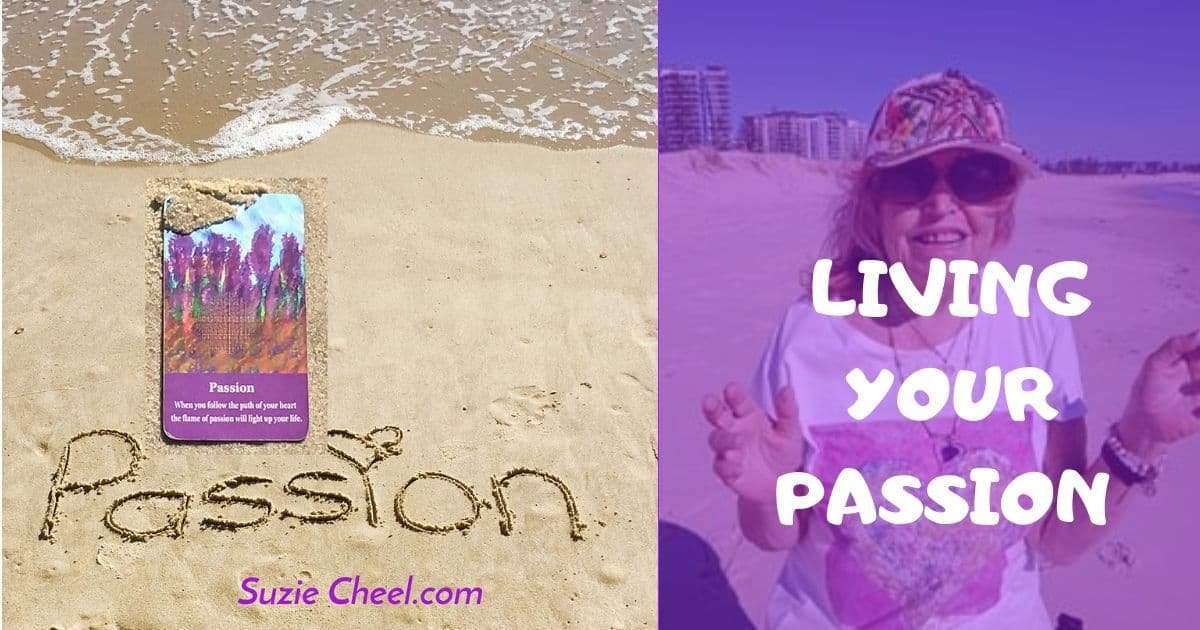 Heart Whisper Oracle Card Reading for the week August 19th 
This week the focus card is PASSION:
[bctt tweet="When you follow the path of your heart the flame of passion will light up your life." username="suziecheel"]
What is your true passion?
Are you really doing something that does light up your life when you wake up in the morning?
You can feel the excitement of the day ahead as you know you step out of bed and you can feel what's coming will light up your life
You can really move forward with love, joy, and abundance.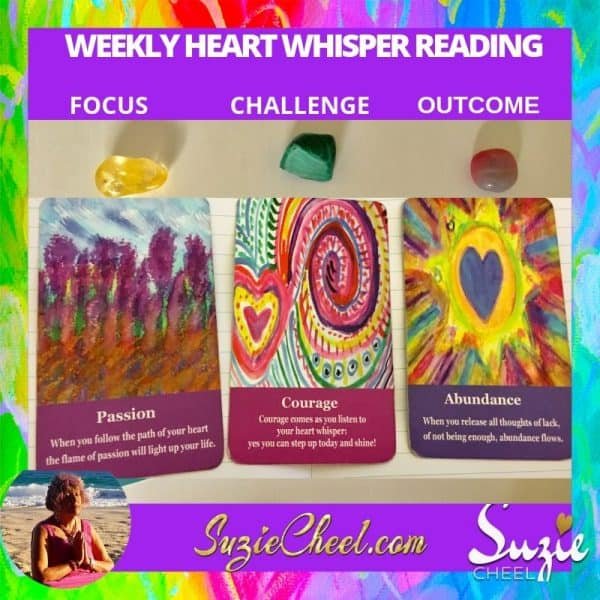 The challenge this week is to step into YOUR COURAGE.
[bctt tweet="Courage comes when you listen to your heart whisper, yes you can step up today and shine" username="suziecheel"]
The feeling you know comes from the heart
And yes it does take COURAGE to follow our PASSION because sometimes it's going to take us right outside our comfort zone!
Often you will have to deflect comments from the naysayers- you can't 
 * Give up your safe secure job, what will you father, mother, brother say……. 
* How will you pay…….. etc, etc, fill in your story here. 
I remember back when I decided all those years ago I left the security of the government education system – and the long annual holidays!  I know some of my friends questioned my decision to start my own textile art business. 
Yes it took courage.
It was exciting and adventurous …
And there was no shortage of challenges.
But I came through and created a successful business.
So passion and courage take us into and onto the feeling of…….
ABUNDANCE
Have the courage to tap into the love that is right within our heart.
It makes us expand.
It feels good
Then we are able to really Love ourselves into Abundance™
[bctt tweet="When you release all thoughts of lack, of not being enough abundance flows." username="suziecheel"]
This week focus on your PASSION, step into the COURAGE that comes when you fully love yourself and then step on to your path to ABUNDANCE.
This is for me the Journey To Freedom
I ask again
Are you living your passion? 
Are you on your journey to freedom? 
Time to live your passion?
Ready to stop the "running fast and going nowhere" game,
Finally get clear about what you really want your life and your future to look like, and be supported in taking the necessary action?
Just click on the link to grab a time in my schedule for a no-obligation chat.
with love and abundance
Suzie 💜🙏💜