Journaling to freedom *
Do you really believe in you?
I decided to let my heart guide me and shuffled my heart whisper cards
LISTEN
Yes listen without fear.
Meditate each day and listen for the whispers of your heart.
This allows you to open your heart to FLOW and
TRUST in you,
yes believe in you,
the magnificent you– a have a song somewhere called the Magnificent You by  Marcia Breitenbach, here is the first verse. 
Awaken now to your beauty
Don't hide behind fear anymore
Release the you that wants to fly
So free
The magnificent you
Trust in your message
Your purpose
Then when you are fully powered by love
The FREEDOM will come
Do you really want to create freedom? *
This question triggered my whole being
My answer is a hell yes
I want to create the freedom that empowers me and you
I want the freedom that creates change with love and kindness
I want my messages of freedom that, are powered by love to touch at least one person each day
I want to create the freedom that  brings
Physical Health 
Financial Wealth
And Inner Peace.
Where you have the choice to be, do and have all that your heart desires.
Then I believe we are 
Being the change we wish to see in the world. Gandhi's words that have resonated for me for so many years. I sometimes say this to myself  Be the change you wish to be!
I started my book Emergings- A Meditation on the Emotions of Change with this quote
And the quote I ended the book with the quote I read this morning in the book:  Simple Abundance: A Daybook of Comfort and Joy
We shall not cease from exploration,
And the end of all our exploring,
Will be to arrive where we started
And know the place for the first time. ~ T S Eliot
I have been procrastinating about updating my book Emergings and republishing it
This book was written when I was making a career change  back in in 1988.
That took me from safe secure teaching as a college lecturer, to becoming an entrepreneur and running a highly successful 5 figure business from my textile art.
Fascinating that in 2018, 30 years on  I am making another major business change in pursuit of freedom.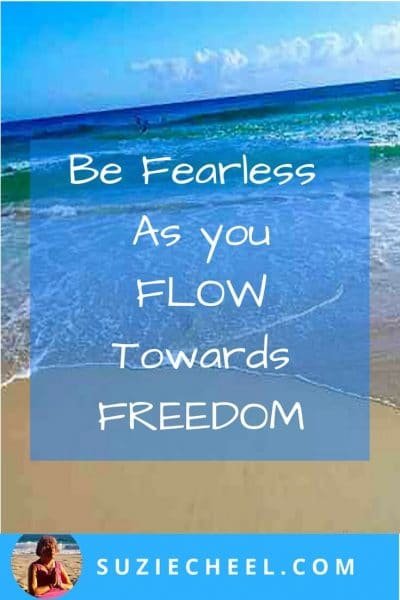 Are you ready to create freedom in your life, now? 
Love heals all
Open you heart to love
Dare to dream again
All my love
Suzie xo
* This is one of a series of daily journaling prompts I started last year as the Daily Whisper
I share one most days on my facebook page, my group and Instagram.