Loving and Owning being the Heart Whisperer
Last week at her birthday party my friend Amy introduced me as the Heart Whisperer. Then Laura Rubenstein asked me if I had shared on my blog, the story of how I became the Heart Whisperer . NO I replied! I had shared my story on Blog Talk radio when I had been being interviewed by Victor Schuller about being the Heart Whisperer and I have shared my story as a speaker too.
So I decided it was time to make a video to share this story with you.
Here is the video:
A Few More Thoughts:
After I made that video ( which BTW I thought of remaking as it's a bit wonky- then I remembered, the gift of imperfection!), above I had a few more thoughts about the heart whisper brand I have adopted.
The heart whisper brand came out of adversity. The message I got from my heart when I was sitting in a dialysis chair on July 27th 2011 was the trigger for me to truly listen to my own heart whispers and was they way forward to really embrace the healing power of self-love.
These words:

It's all about love Suzie. You will be healed when you see and feel only love for you first, then you will be all that you have to love and to give. When it is totally anchored in inner peace and that feeling of pure joy that allows the awakening that is already you to emerge. That's the inspiration, that's the ripple effect. ~ Suzie 27/7/11

and the first 45 Intuitive Heart painting series that led to me starting the Heart Whisper Ezine gave birth to the #HeartWhisper tag and to me becoming The Heart Whisperer.
I am thrilled by some of the feedback I have on this development in my journey such as the following comments:
You always take me deeper into the many layers of self-love! You truly are "the Heart Whisperer" ~ Martine Joseph

 I love all that you're doing with the Heart Whisperer. What a gift your work is. You are truly inspiring and enhancing the positive energy on the planet and we really need it. Thank YOU! ~ Laura Rubinstein
Footnote:
Here is the painting process that birthed the new Heart Whisper banner and logo.
 March 31st in response to an exercise in Your Big Bold Creative Life program:I started the painting by choosing a very pale pink heart I had painted last year. This maybe was the shrinking violet I know I had allowed myself to become for a while and what I believe stops me putting my work and services out to the world. You can see the progression of the painting from Left to Right, big bold strokes in acrylics, then more releasing with my fave fan brush and bright colours. I then put layers of white on which I forgot to photograph. A step back before the rainbow arc came in the 4th painting as I was painting the red, yellow and orange chakras out I felt some anger and disappointment at the missed opportunities and how I had allowed what other people thought about me to make me shrink back.
.The next day more layers went on, I felt this was a softening process and saw it as complete, until this morning when I was drawn to put in the heart with what I see as rays of love and light spreading out from me to the world. As I finished this I thought time to journal, yet I put it off and what has followed today has been a real time of questioning what I am doing. I have been revamping my website and fighting with the DIVI theme, I am building on another domain and I have wasted so much time or should I say had many learnings. Freda ( my gremlin) has been sent on a cruise today so tomorrow I will complete the basic new layout and do what brings me joy- so I can leap forward this week.
Now I am revisiting this great content I have, testimonials, videos, interviews, almost made products, coaching and getting clarity without my gremlins second guessing. I am embracing being The Heart Whisperer – I have a huge story to tell that I keep hiding too! I have restarted on my book Lucky To be Alive: The Healing Power of Self-love.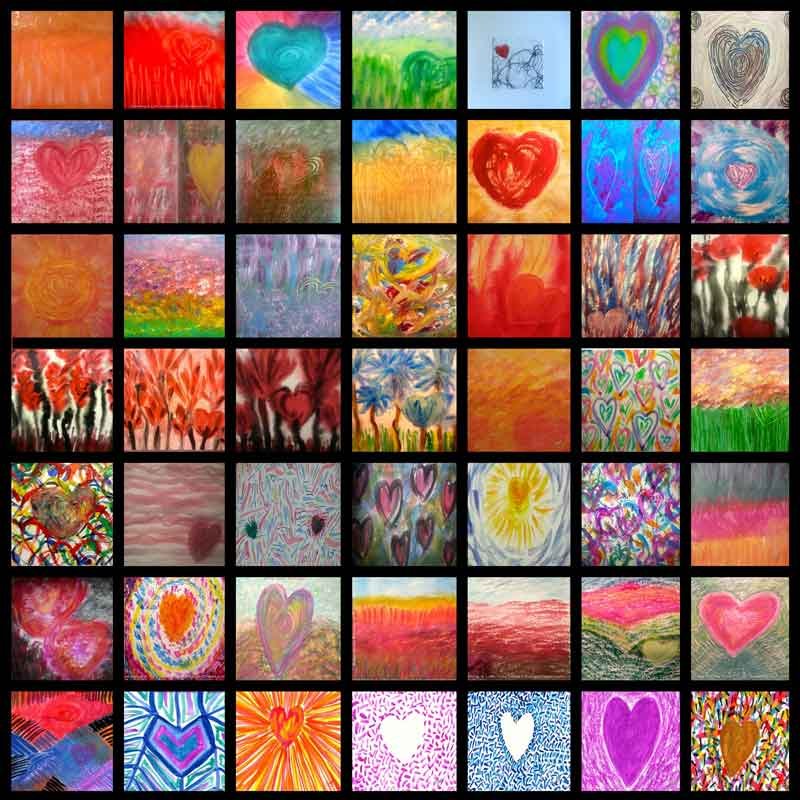 Heart Whisper art is now available here:
with love and gratitude
from my ♡ to yours ♡

Listening to the whispers of your heart brings ♥More FUN ♥ More LOVE ♥ More ABUNDANCE ♥
I would love if you were inspired by this article if you could share on your favorite social  networks and with your community. This can help others heal and transform their lives. Thank you!"♥♥
Join The Heart Whisper Circle and get you FREE Self Love Meditation, + an invitation to The Heart Whisper Circle. Weekly Heart Whisper delivered  to your inbox. Each Heart Whisper is an individual painting with a message from my heart to guide you towards a moreCreative, Abundant, Love filled Life
facebook Twitter Instagram Youtube You are so beautiful Suzie and I love coming to your blog. It lifts me up and refreshes me each time. Your art and inspiring words always touch me. Today's in particular was moving for me I am on that journey of complete self-acceptance and self-love.
Thank you for your burst of joy in my mailbox. I give thanks for your posts that always brighten my heart
Suzie, you bring so much sparkle and joy to the world…you are my role model for vibrant living
Join The Heart Whisper Circle
COPYRIGHT SUZIE CHEEL 2016 | ALL RIGHTS RESERVED
PRIVACY POLICY | TERMS OF SERVICE