Prosperity Comes When Fully LOVE You
I have started to journal my way to riches each day.
I asked myself the question before I did my oracle card reading : why am I feeling stuck in relation to my income?
You could ask this in relation to your life, health, relationship,  income or business.
I chose the income area because when I asked the question that was what surfaced. I am feeling stuck in not sharing fully my gifts with the world.
I hold back!
Too many irons in the fire 🙂 Then overwhelm sets in. You know that feeling?
The challenge card that I drew: Prosperity with the message: When you follow one path prosperity will flow spoke volumes to me. So, from today I will do the work and take the action that brings me joy and shares my message:  open your heart to heal and prosper.
I will complete three things from my love list that I have been avoiding for weeks, really even months.  I will have a lovestream about this message and my book asking what do you want to know about the chapter I'm now writing about the drug that saved my life: Prednisolone and how I overcame the side effects.
The guidance cards card Inner Peace comes when you love yourself fully and release all judgement.
Today I'm loving me by doing my daily exercises to heal my body to make me stronger and to get my knee pain free and strong again.
How is this loving me?
It's so easy to say I'll just….  and then your MeTime goes out the window! Before you know it you are down the rabbit hole and those 5 minutes become an hour!
My New Plan
I know i wrote earlier about my daily morning routine asking How Do You Love You As You Start Your Day? Well some of my routine that went out the window when I fractured my knee 6 weeks ago. Today I am restarting that with some variations.
I will meditate, draw my Oracle cards, journal, write 750 words for my book then spend 15 minutes on my exercises before my business day starts. I am putting another 15 minutes at 5.45pm for the same exercise routine. I also will be adding in a painting session each week.
I will release all judgement and repeat: I am enough and restart my mirror work
Now to take a closer look at what I need to let go of, of  what no longer brings me joy.
Then you can expect miracles to flow when you feel the love.  The outcome card today is Love
What is your heart trying to tell you?
Are you listening?
What if you could go from being stuck to feeling free and moving forward?
Schedule your reading and discover the magic that come when you learn to really listen to the whispers of your heart. You can step into a life full of joy and abundance.  Here is the link. 
Open Your Heart: Heal and Prosper
All my love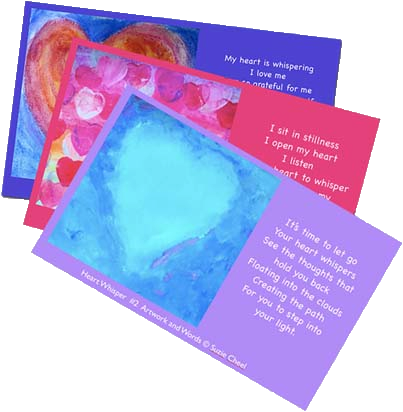 Get weekly inspiration to raise your vibes, a weekly heart whisper painting with a channelled message + more