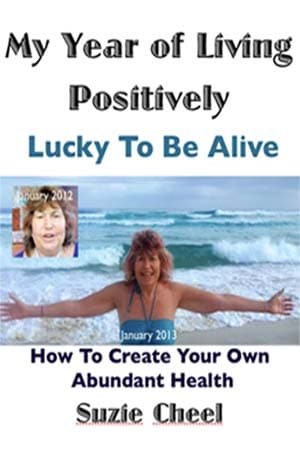 When you arise in the morning, think of what a precious privilege it is to be alive – to breathe, to think, to enjoy, to love. – Marcus Aurelius
My Year of Living Positively: Lucky to be Alive is the title of the book of my healing journey that I am writing this month. Why lucky to be alive I hear you ask? Well these were the words that rang out for me when the specialist said I had "something around me" and my GP said that 5 years ago they would have been finding out what the cause was from an autopsy. until then I had not taken on the severity of my illness– probably a good thing on reflection.
This was not my first near death experience (NDE). At 16 I has been hit by a car and my heart stopped and I was in a coma for a week. The words"You don't know how lucky you are to be alive"came out of my mother's mouth more than once over the ensuing years.
I have been on a journey  for the past 18 months and although I know my kidneys have healed, I have yet to get the medical clearance and I have been given a few other challenges to work with over the next 6 – 18 months. mainly from the medication I was on a year ago I have sustained crush fractures in my vertebrae. 6 months is my picture, 18 months the time I have been told if I follow what is quite a rigorous regime the time it will take for my bones to regrow and the osteoporosis to be gone.  On this unexpected journey as you can imagine there have been highs and lows, along with lots of insights into my inner self.
Lots has changed for me over these past eighteen months. There have been obstacles, wins, disappointments, love and joy to mentions just a few emotions that I have experienced. You can see from the photo on the mock=up cover of my book that a year ago I had a different look.  Coping with prednisolone -accepting my moon face I will share in the book along with how I maintained my positive outlook on life, my alkaline diet, what I changed and why, what I gave up, the importance of tapping into my creative self and more. This will not be just another book about positive thinking, it is about what I have been able to achieve and how others can do this too when we take full responsibility for our own gift we have been given including our health and start on the journey to our own abundant and vibrant health.
Now I need your help: I am sure you have question that you would like to ask about my journey to vibrant- well almost, abundant health. Please ask below on the comments or send me an email. I know your question will add to my story and help so many others. I look forward to hearing from you. If you are new I have listed the blog posts below that relate to some of my story.
With gratitude and in abundance always
Namaste
My healing stories from the past 18 months
Do You Have Your Life in  perspective?
Moving forward with joy and love
Are you celebrating yout life today?