Picking up the pieces and moving forward
Monday 2 weeks ago I landed back in hospital. It was the first day in 21 days that I had not got up and painted, I woke up with a headache, yes I did take a couple of panadol, had some breakfast and then went to see my GP – this was on the schedule. The doctor took a sample and ordered blood tests. I had the tests and went home, cancelled a Spiritual Healing I was to have that afternoon and then later in the afternoon Veronica, my doctor called saying the tests were in and she had called the specialist and I was to go back into hospital. Report straight to emergency. I was devastated.
No I did not jump straight in the car! I got my healing kit together and a nightie etc with Des saying I can bring things in for you. Two hours later I was in Medical 3, a new 2 bed ward at Tweed Hospital. There was no view as I had had before. Yes that is a bandage on my wrist, catheter back in for the intravenous antibiotics as initially they thought I had an infection.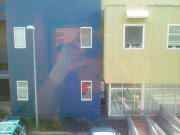 So why did I land back up in hospital?

I think the reason I was back in there was that I was fighting the Doctors and the drugs, now I am going to combine loving the drugs as currently they have saved my life while adding in an Alkaline food diet that I know will help beat the kidney disease too. What is it they say? Disease can't live in an alkaline body. It's also about letting go of the control or trying to work/figure it out. LOL as my BF Stephanie gave me a thumbs up for on skype for that realization.
So I was in hospital for 6 nights. Each day they said I would be going home the next day until Thursday when my kidney function kept dropping. I was given intravenous prednisolone and the next blood test taken on Thursday afternoon showed my kidney function (GFR) at 75% and Friday morning I had a biopsy which showed that I had a early relapse of Pauci-immune glomerulonephritis. The afternoon had me back in chemo and a cyclophosphamide treatment, something that will occur fortnightly until the end of February. I am back on a high dose of Prednisone and adjusting to the side effects. 🙂
On Saturday I put out the intention to be home and healed. After re-watching The EFT Movie: The Tapping Solution, I created a new EFT tapping session which I did twice on Saturday and again on Sunday morning. I was expecting to be home on the Sunday for a few hours and then out on Monday. When Dr, who originally let me go home back in July, came said why not just go home, you are on tablets from today- all in just over 24 hours. I was my own miracle and YES: WE DO CREATE OUR OWN REALITY. I also was back in positive mode:)
I am gradually getting back into a slow routine, I have made a couple of videos and each day I focus on my healing using meditation, EFT, oracle cards and journaling. Currently no beach as we are having very cool summer weather.
I will share the Intuitive Heart Series that I restarted in hospital. If you want to see the full gallery I have posted them on my Facebook page.
Live in abundance, be the change and make a difference TODAY!
Namaste


If you enjoyed this please share it on Facebook, Twitter and Google+1. Thank you!
Find, Follow, Subscribe, and Share Me on Social Media
facebook Twitter Instagram Youtube Pinterest LinkedIn Google+ RSS
COPYRIGHT SUZIE CHEEL 2016 | ALL RIGHTS RESERVED             PRIVACY POLICY | TERMS OF SERVICE