The Daily Heart Painting of 100 Becomes 365!
Am I Crazy? Maybe just a slightly wild idea 🙂 
Back in January I embarked on a 12 day painting journey for 10 minutes a day and I started to feed my creative spirit again.
After 10 days I kept going  for 2 more days and then declared to The Big Bold Creative Life Community that I was going to do a daily painting and create  100 Hearts.  I started and shared every day in the community and then started to share them on Instagram, facebook and here on the blog.  The first 49 are featured in the grid above.
The blog system broke down in the at heart 26 so I am now sharing them all here over several posts. I have surprised myself and I love feeling my creative spirit every day.  I will even paint at 11pm rather then going to bed. This is my passion 🙂
I have  discovered there are many 100 day Daily Painting challenges out on the net and many artists have a Daily Painting blog. I am in good company.
I thought you might like to see them all together.
Today I am sharing the first 12 paintings and the hearts 1-98. I will share 99-115 next and before we start the daily post.
I have made a video sharing my process and answering some questions I often get asked. You will also learn what's happening as I move forward.
Join The Heart Whisper Circle HERE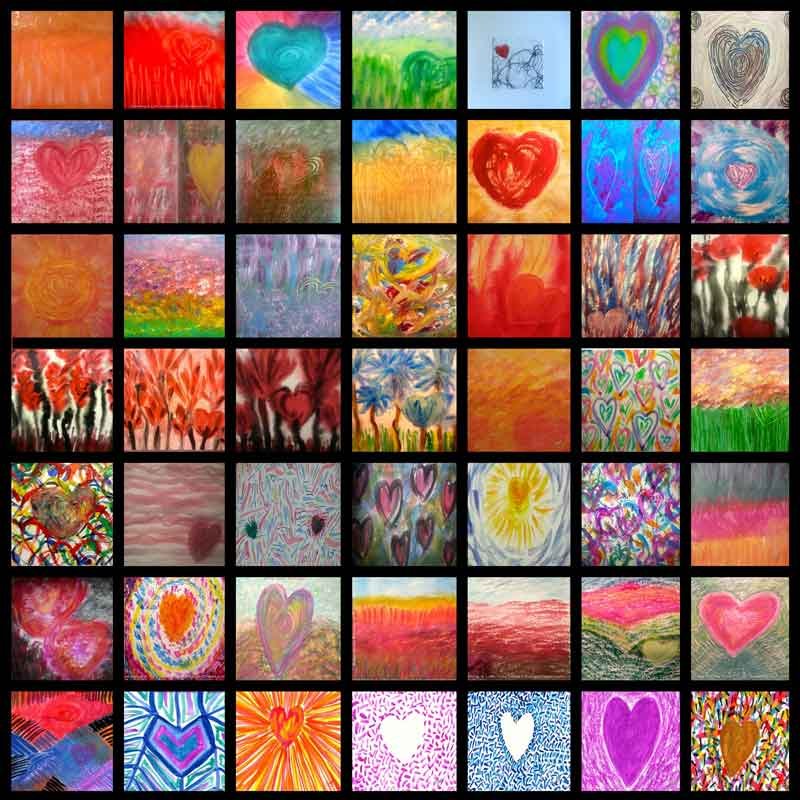 100 Heart Series- 50-98
The paintings will be available for sale here on the blog and some at my online printshop
If there is one you would love as a print, cushion, leggings, on a mug etc,  let me know in the comments or email me
Have you ever set yourself a slightly wild challenge for 365 days?
with love and gratitude
from my ♡ to yours ♡


Listening to the whispers of your heart brings ♥More FUN ♥ More LOVE ♥ More ABUNDANCE ♥
Please Share this article on your favorite social  networks and with your community. This can help others heal and transform their lives. Thank you!"♥♥
Follow me on Twitter  @suziecheel  Join the #heartwhisper conversation  on Facebook, Pinterest  and Instagram