October Monthly Reading
Welcome to a new month and the Heart Whisper Oracle card reading for October.
The question I asked was:
What will this month bring forth that will empower you?
I then started to shuffle the cards focus on the question As I shuffled out flew the TRUST card: 
I kept shuffling and out flew FREEDOM!- This is the third day in a row the Freedom has appeared.
The before I could draw the Challenge card out flew PLAY
Trust is my word for the year.
Freedom my first value:
Play is what I need to make my work
The I drew the challenge card for the month: LISTEN
Next the Action card: YES
Then the Outcome/Moving Forward card: JOY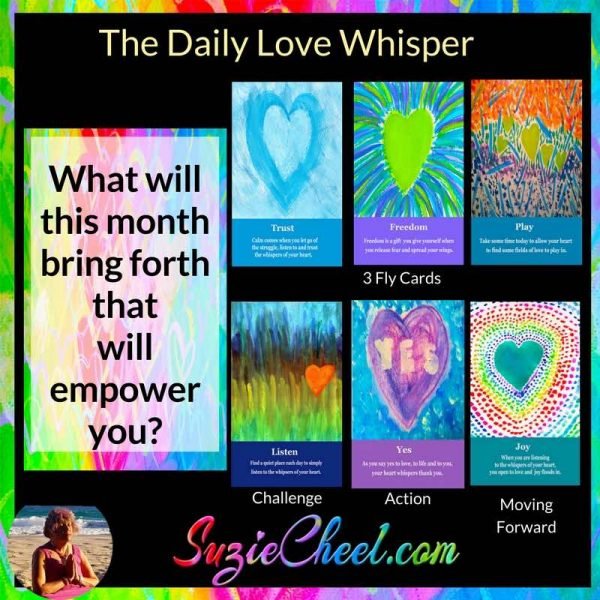 This was a most unusual reading for me. I often get one fly card, but not three. Also three that are totally in alignment for me right now.
The Listen card ties in very well to the 3 fly cards as it is when we "Find a quiet space each day to simply listen to the whispers of your heart"  We get the answers from within that out inner wisdom wants us to know
The Action card Yes: "As you say yes to love, to life and to you, your heart whispers "Thank you".  
This is another so in alignment card for me. I know that to empower myself in a bigger way I have to only do what I can say a HELL YES to. That is not easy for me  as there is always the little Miss Goody Two Shoes voice inside that says- just one more time, etc!
The outcome, moving forward card Joy
.
This ties all the cards and the messages  together.
To experience those feeling of joy we must fully love oneself and do the daily work that does empower us.
From here I will plan my days for this month.
Always asking: am I in alignment, is this a hell yes?
Does this reading speak to you?
Will you open your heart to allow  what will empower you to come in?
Remember
Open your heart to LOVE: DARE to DREAM again!
all my love
Suzie xxx 
PS:
Need clarity to move forward this month? https://www.suziecheel.com/heart-whisper-reading/