Working with The Color Indigo and The Third Eye Chakra
"Learning to see is a matter of learning how to look and of having the patience to look long enough to find what you are seeking"~ Anodea Judith
Indigo is the color of the deep midnight sky, of denim, of intuition and perception and is said to helpful in opening the third eye.  When I think of indigo I am taken back to the indigo dye vats of Nigeria that are sunk into the earth that I saw many years ago in Kano in Northern Nigeria.The deep blue of indigo is a natural colors and one that is often seen in Japanese Textiles.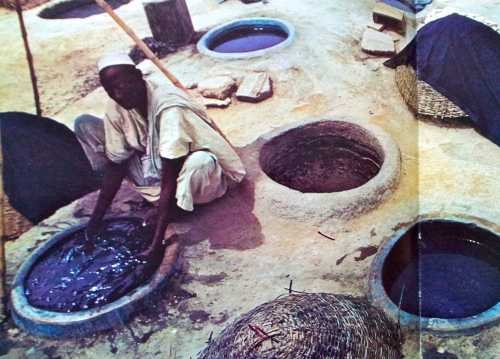 Indigo is the color of the sixth chakra, our third eye or brow chakra, which is the gateway to our intuition. The sixth chakra is where we learn to interpret, perceive, see, understand, and recognize ourselves and the world around us both accurately and authentically. It is where illumination, visualization, imagination, dreams, insight and intuition meet.
The Third Eye Chakra says to us I see and shows us the way?  
Intuition is a spiritual faculty and does not explain, but simply points the way.  ~ Florence Scovel Shinn
Mary Jo Shaeffer in her book Rainbow Eyes: Chakramid Reflections
 suggests this formula:
The Third Eye (or iii) Formula for enlightenment is Imagination + Intuition + Insight + Inspired Action. Apply this method to your life and bask in the "glow of "living in the light"
The 6th chakra is the area that flourishes I find when I take time to trust my inner voice, I am using my imagination and I am taking action. I am in the flow and I am embracing change. When we are fearful of change, of stepping into our light and our power this can be an indication it is time to put some time in daily to open our third eye.  Here is a third eye chakra meditation for you. You might like to sit for a moment and see what response you feel.
Here are 7 ways I have found that help in opening my third eye chakra:
 Meditate. I light a candle and then  take time to be still,( start with 10 minutes morning and evening, try 5 minutes if 10 seems daunting at first). I start with 3 deep breaths and feel myself relax,then I ask the question: What does my inner wisdom want me to know today? Thoughts will come and go, like the wind let them fly away. Listen to what you body is telling you- it might be a feeling, a picture, a sound. Allow yourself to listen and trust. You might like to keep a journal beside you and jot down after the 5 0r 10 minutes, any message you received. This will increase your trusting muscle. (PS I use Insight timer on my phone to keep track of the time.) You might also use a Chakra healing meditation of mine
  Use Oracle cards: Today  I asked  what will help me move forward now from Doreen Virtue's Healing With The Fairies deck and drew Letting Go and yes it was relevant for me today as I have some things both physical and emotional that when I release will be very freeing.
 Listen To Your Gut: Do tummy testing: I place my left hand on my tummy- yes the bare skin and ask for a yes or no answer about anything I want an answer on. A yes is when I feel my tummy breath out, if it is a no my tummy stays still. I also sometime use a crystal pendulum and finger testing.
 Keep a small notebook or use Evernote on your phone and start to record instances where you become aware that you are trusting your intuition. This becomes your record of proof.
 Visualize– Use your middle finger on your third  eye ( in the middle of your forehead) and massage it and then see it opening, like you eyelid opening, be aware if you have
 Listen to The Intuiton Guided meditations that have helped me learn to trust my intuition more.  Whether you are just starting out to meditate or an experienced meditator, Angela's guided mediations will help you open into your soul, your intuition or what I call your heart whispers. Angela was instrumental in untapping my intuitive painting when she gave me a 21 day prescription back in 2011.
 Read books and join groups where you can share and practice with like minded peeps. The Intuition principle: it is a wonderful simple Intuition guide, Sonia Choquette has been my guide and mentor in this area for many years and her Psychic Pathway was one I started with and her new book Tune In: Let Your Intuition Guide You to Fulfillment and Flow

I have just ordered. You can use you local library too.
What do you do on a daily basis  to keep your 6th Chakra open ?
Want help with opening any of your chakras- check out my Love You Coaching special. I love helping you to love you and love your life more each day.
all my love
Here are the links for all the other Chakra Color Prescriptions: Red, Orange Yellow. Green, Blue, Indigo, Purple
If you enjoyed this article please subscribe and share it on Twitter, Google+and Facebook by using the share the love buttons below. And, I would love to hear from you in the comments. Thank you for your support!