IS IT AT THE FOREFRONT OF YOUR LIFE?
CAN YOU FEEL IT?
WHY DO I SAY THAT?
On Monday I was challenged by my mentor to write out my vision and where I saw myself with my Online Marketing Business and My Abundant Life project in 12 months from now.
I wrote my vision out after sharing my ideas with Des.
Then he reminded me of my very big vision that I seem to keep putting aside 
🙂
This is the second time this year I became aware of doing that.
Listen in to hear my big vision***
Amazing how the small things can cloud the big vision and how we can we put our real our passion on the shelf.
This morning I tapped into my heart, asking if I was ready to share this vision with the world.
I drew the Dream Big card from my Heart Whisper Oracle deck after hearing the whisper, "review it, think bigger!".
[bctt tweet="What is your dream that will create ripples of change for you and the world?" username="suziecheel"]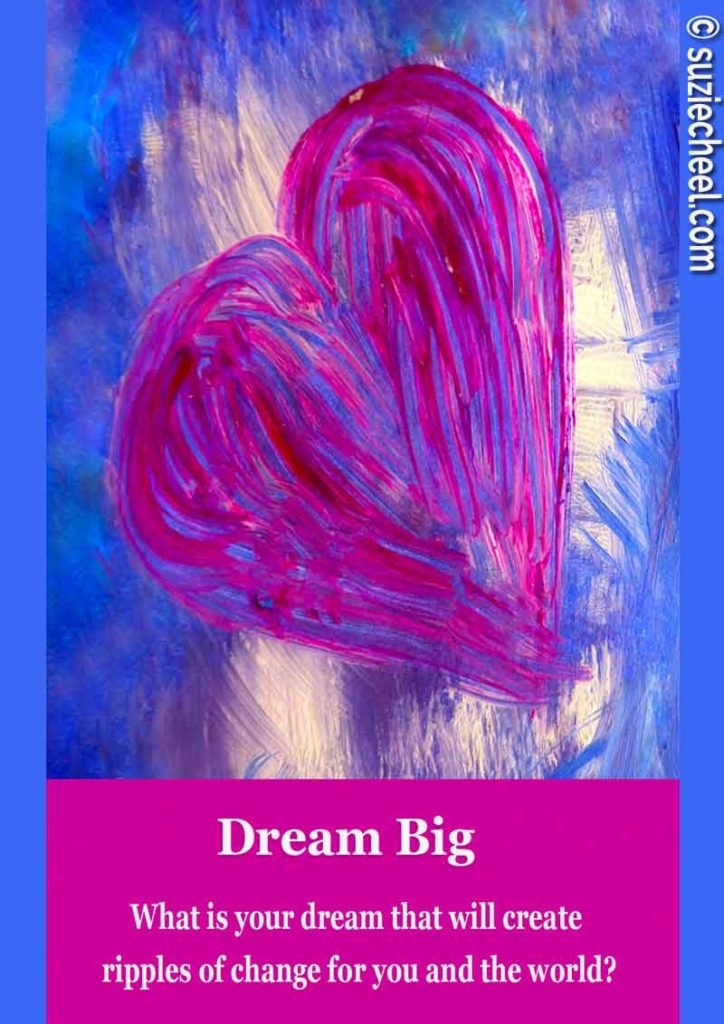 Amazing how one's higher self always seems to know.
I have expanded on what I wrote yesterday, especially the 12-month picture This is what I see my 12-month vision as being.
Then early Wednesday I went to the "Power of Women in our 60's" meetup that Chris Vidal runs. It was great!
I met 27 awesome, 60+ women.
And I was asked share who I am and part of my vision.
I could feel the power in me as I spoke and the joy I felt.
So that reminded me of my bigger vision.
My bigger vision, my "Big Why" about my online business is this:
I see myself staring on a stage in front of hundreds, even thousands of people, with my colourful heart art, featured behind me.
I am speaking about the power of opening our heart to love. I see people opening their hearts, feeling the joy and discovering the path to their fully abundant life.
This is at the core of my dream of a Heart Whisper Empire.
So how was I going to create the resources to bring that vision into my felt reality?
And in part that meant how was I going to be able to shake off the debt burden holding me back? That's a story for another day, but believe me, it's real and it is a burden.
What became clear to me was that my online business, which includes being part of a wonderful, heart-centered community, is a perfect vehicle to enable me to combine my passion for my art and my passion for opening people's heart through radical self-love.
And with perfect synchronicity between my online business, my art, and my Heart Whisper work, by just Being Me, telling my story and mentoring others to do the same
The online business provides an amazing platform for anyone wanting to build a prosperous business online and includes brilliant mentors and a heart-centered community, all rolled into one.
It's unique.
And I feel uniquely blessed.
It's a platform that provides us with the education, the training, the tools and the mindset for success, a complete path to becoming a professional affiliate marketer and creating the life of our dreams.
I have seen this business platform and community changing so many lives.
I now have a way to change more lives than my solo work alone can do
I have a way to create a legacy and an impact, alongside my art
I have embraced it with passion and joy.
[bctt tweet="Those of you who know me well know I live by the Gandhi words: Be the change you wish to see in the world." username="suziecheel"]
And this business provides the means for me to do that.
I wake each day full of love and joy sometimes my heart bursting wide open as I skip along the beach
Any doubts I had have vanished, as I feel so aligned to my purpose and my passion
There is an ease and flow in my life
I have owned who I am.
Yes, I'll be honest, the fear is still there.
What if it doesn't work for me? What if fail?
And what I know now is that the fear in one way or another will always will be there as long as I keep growing into the best expression of myself.
So now I lean into that fear, embrace it.
Say "Hi friend, here you are again!"
And deal with it.
Because I have given myself permission to have it all.
To be the person who is going all in to be the change I truly desire, creating the time and freedom to fully live an abundant life.
Calling in the people who choose to want it all so they can live their abundant lives.
If you are maybe like me an artist, a healer, a coach, a bit Woo woo, an entrepreneur, a teacher….
Or a nurse, a consultant, a coach, a brewery worker, a FIFO worker, an Uber driver……
And you really want more time and freedom in your life.
I'll be delighted to give you some info on how this online business education and training system can serve you and your vision too.
Message or email me and let's chat.
love Suzie💜🙏💜