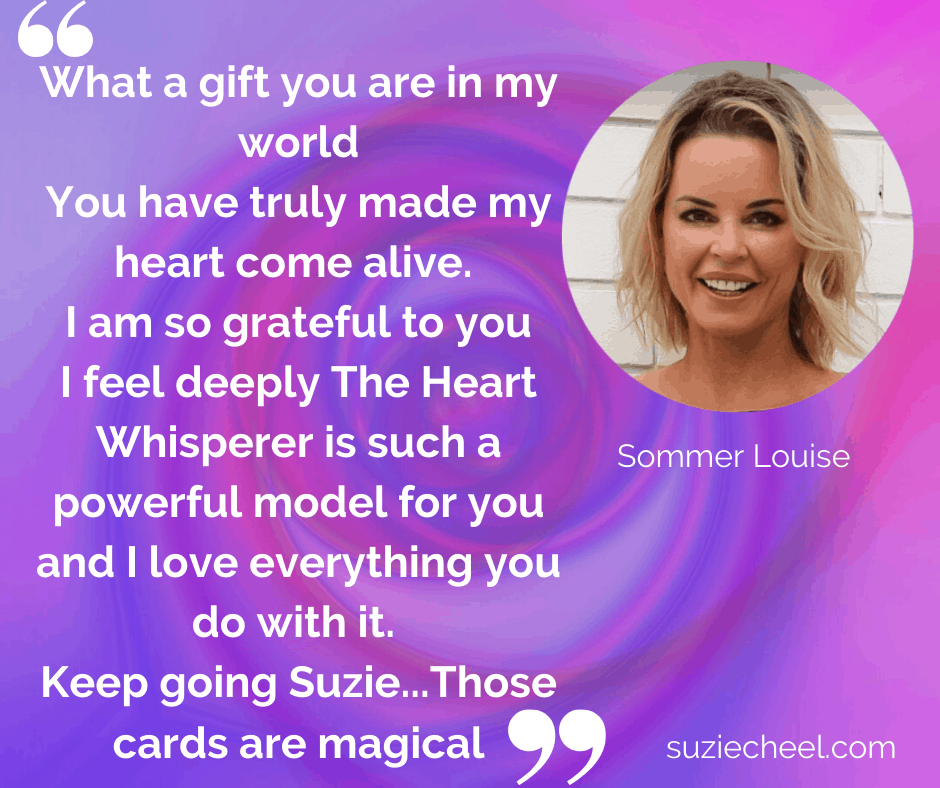 I heard those words last week from Sommer 
Never, never, never, ever give up
Click To Tweet
I have thought about giving up many many times.
I looked outside myself, thinking the answer was out there?
No the answer and the message are always within.
When you receive a morning message like this
"What a gift you are in my world xx
You have truly made my heart come alive. I am so grateful to you xx Suzie
I feel deeply The Heart Whisperer is such a powerful model for you and I love everything you do with it. Keep going Suzie…Those cards are magical"
Yes, your heart smiles 🙂
Does somersaults
You know all the pivots, maybe this or maybe that, the highs and lows have finally been brought home to your heart.
The work and products I share with Creative Heart-Centred Entrepreneurs is opening hearts and bringing people, both men, and women, home to themselves. Empowering them to rise up even more and create more impact
Creating ripples of change
My success buddy, Manda J Beaver calls them Creative Heart-Centred Elite Entrepreneurs.
Yes this brought tears to my eyes👀
My mission Leading from Love is in action 💓
Making the difference through love
I was told in a dialysis chair in the Renal Unit of Tweed Heads Hospital that when I fully loved myself I would be doing just this.
Yes the universe, source, God they all know
We just have to learn to listen and trust
Yes, Kate and Jeffrey, thank you, you took my hand, saw the power within and believed in me.🙏
I am rising up and doing the thing that is in my heart 💜
Yes truly following the path of my heart.
Embrace your path with love and you will find the gift your heart knows is within.
Click To Tweet
The March Reading focus card  is Follow Your Heart
Thank You Thank You Thank You
with love and abundance 
Suzie 💜
The following two tabs change content below.
Suzie Cheel works with Leaders and Entrepreneurs Is an award winning artist who has exhibited and sold her artwork in galleries and collections around the world Has a Masters degree in Applied Science Has worked with several 7 figure leaders, expanding their self awareness, self worth and guiding them onto their spiritual path Is the creator of the Heart Whisper Daily Guidance oracle cards, dubbed the Entrepreneur's Essential Toolkit Is the author of Emergings - a meditation on the emotions of change
Latest posts by Suzie Cheel (see all)