LET'S MAKE MAY OUR MANIFESTING MAGIC AND MONEY MONTH?
WHO WANTS TO PLAY?
The Heart Whisper oracle card reading for May so delighted me. I felt totally in alignment.
How will it speak to you? 
I shared the cards when I met with a friend Kathy for a coffee as I was excited at what had been shown to me. She was excited too as she had only seen the cards online 
I love that my energy was flowing abundantly too. Kathy commented that I looked amazing. 
I had felt a shift recently both inwardly and outwardly
With my online business, I have been doing inner work and shifting energy.
Intermittent Fasting is changing my body shape and giving me more energy
Back to my theme of manifesting in May and the reading 

AS you listen to the reading and check out messages I trust that they will resonate how you can manifest magic in May 
FOCUS as our focus card for May: Get clear on your vision and call it in daily
The challenge is GRATITUDE , this might mean to restart your daily gratitude journal, do a daily gratitude rant that I do on the beach or read the Magic.
[bctt tweet="Gratitude flows from your loving heart and opens the doors to abundance" username="suziecheel"]
Then the MAGIC HAPPENS when we believe we are worthy and
[bctt tweet="THEN TAKE TIME TO SIT IN STILLNESS AND LISTEN" username="suziecheel"]
Be BOLD and step into your brilliance and STEP UP AND SHINE
Knowing that by being in ACCEPTANCE by loving yourself unconditionally you will shine your light.
Yes embrace You and then you release all your limitations, the ones that have been blocking our ABUNDANCE to flow.
[bctt tweet="When you release all thoughts of lack, of not being enough, abundance flows. " username="suziecheel"]
Then  LOVE is fully present in you and you can 
LOVE YOURSELF INTO ABUNDANCE™
I felt as the reading unfolded, that this was totally in perfect alignment with my mission and my purpose.
How did it speak to you?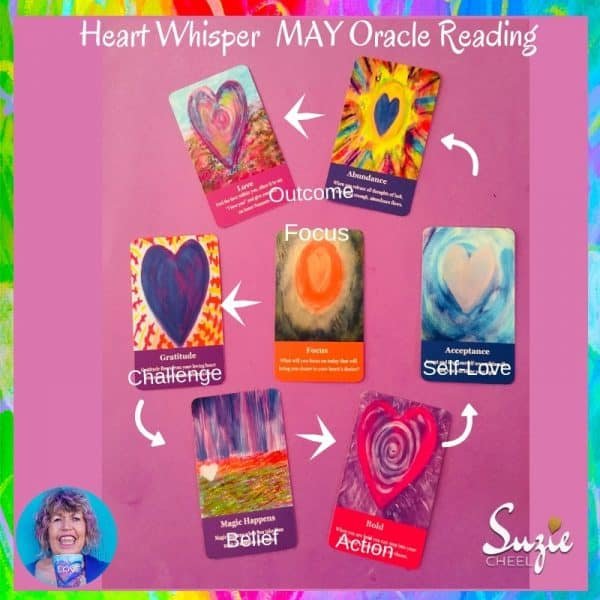 I feel the shift in my consciousness and my energy and I am ready to be BOLD and fully LOVE MYSELF INTO ABUNDANCE™
It is a choice I have chosen to take the monkey off my back and trust my INTUITION- my heart whispers.
Who's ready to make the choice to LOVE YOURSELF INTO ABUNDANCE™ and to build an online business to support a location-independent, financially abundant lifestyle. If that's you message me 
Love SUZIE 💜🙏🏽💜