TODAY JUST BE YOU
Today's Whisper asks: 
What does my heart want me to know today?
This was the question I asked myself.
Then I drew the Heart Whisper Card: JUST BE
Then came the words:
Yes just be you, stop trying to be all things to all people, like you think you should be!
I thought I was 🙂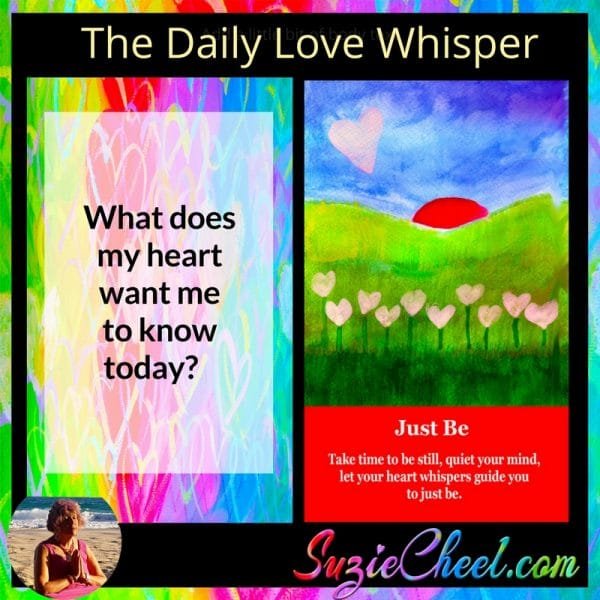 You still need clarity on who you are when you just be you.
Sit in stillness and allow your inner wisdom, your heart whispers to guide you.
Allow the one thing that will propel you forward to surface.
The next words I wrote were loving you fully.
When I was lying in bed this morning after saying my prayers. doing ho'oponopono and giving thanks, I heard Suzie you must fully love you!
Wow that was a shock. I do the daily work and feel I do love myself unconditionally.
Looks like still a few edges to sharpen!
Go back and do the mirror work yes you can stand in front of a mirror and say and feel: Suzie I love you, I really love you and I do repeat it throughout the day.
So what am I missing?
I meditated and allowed my guides to come through.
I again saw Louise who reminded me of the message she gave me back a month ago:
" know that love heals when you truly love yourself, you know must show others this is the way. I will be here to guide you and remind you, just ask. Yes Suzie, I am your new guardian angel".
There were the two words I needed to remember: JUST ASK
So I asked and was reminded that I was to do her 21 day Mirror Work course. I had recommended it to others.
I have the book on my computer and  I did start 🙂 Today I will start again
From this I will develop a Power of love course that brings in new mirror work that will emerge as I do her course, exciting and a bit scary- how do I fit this in?
Let go of the how Suzie!
Des and Kat keep reminding me of this.
Well yes, it is part of opening your heart to love, and daring to dream again.
I will do a series of Circle of Love paintings that I got a message about a week or so ago. This will open some windows of the heart and soul for this new course.
This is the first one in this series of 7. A 3 layer watercolor on 300gsm watercolor paper. Yes it is for sale- it will come ready to frame.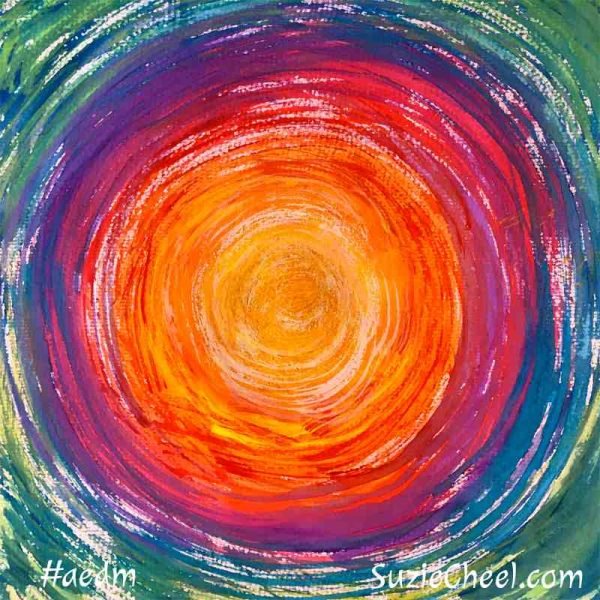 My heart is smiling and I can feel the excitement.
Yes Suzie remember to just be and ask.
I do love me and my life ♡
What Does Your Heart Want Your To Know Today?
Remember
Open your heart to LOVE: DARE to DREAM again!
all my love
Namaste
Suzie xxx 
PS:
Join me in the Empowering You through self-love challenge http://bit.ly/eytsl/